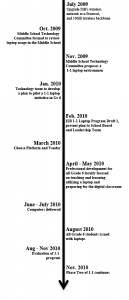 Last week our IT Director, Chad Bates, gave a presentation to the ISB School Board outlining the next phase of technology use at ISB. The phase includes a plan to go 1:1 starting next year with grade 6 students.
It's an exciting time to be at ISB and I for one am looking forward to rolling out the 1:1 program over the next couple years.
As part of his presentation Chad went over the history of technology implementation at ISB over the past 10 years. As I sat there reflecting on how far we've come with technology in just the past 10 years, it amazed me how fast we've transitioned even if for many of us it doesn't seem we're transitioning fast enough.
1999: ISB has two computer labs in each division (ES, MS, HS) with technology teachers that pull kids out of class as a special. A very common practice in 1999.
2001: Under than IT Director Steve Lehmann ISB puts in a campus wide wireless network, and starts replacing computer labs with laptop carts at each division as part of the replacement cycle.
2004: ISB hires a Technology & Learning Coordinator (TLC) to help teachers implement technology in the classroom.
Summer 2005: Bandwidth is increased to 1MB
2005: The TLC from 2004 returns to the classroom and the current team starts to take shape starting with Dennis Harter who is hired to be the TLC for Middle School and High School.
Summer 2006: Bandwidth is increased to 2MB
2006: The Elementary School hires Justin Medved as the TLC and phases out computer labs in the ES and goes exclusively to laptops carts at each grade level. By 2007 ever teacher will be phased into using a laptop instead of a desktop computer in their classroom.
Summer 2007: Bandwidth is increased to 5MB
2007: One of the elementary librarians moves to take another international job and the Elementary School takes the opportunity to rethink the overlap of technology and libraries and hires Kim Cofino as the 21st Century Literacy Specialist.
Summer 2008: Internet bandwidth is increased to 10MB
2008: Justin Medved moves on to a new adventure and I'm hired as the new Elementary TLC and Chad Bates is hired as the Middle School TLC and for the first time ISB has a dedicated TLC at all three levels.
Summer 2009: The wireless infrastructure is upgraded to N protacol an a 10GB Fiber Optic Backbone is put in place and bandwidth is increased to 20MB.
2009: Chad Bates moves into the IT Director role as Steve Lehmann leaves for a new adventure and Kim Cofino moves into a 50% Middle School TLC position 50% 21st Century Literacy Specialist position.
Fall 2010: Launch phase one of 1:1 program in 6th grade. Dennis Harter moves to the High School office as Dean of Students (VP). Kim Cofino starts a new adventure in Japan at YIS. I move into the High School TLC role vacated by Dennis, and a new (soon to be announced) person is hired to take Kim's spot as the Middle School TLC. Chrissy Hellyer moves from 5th Grade to the Elementary TLC role that I vacated.
Still with me? And Yes…this is a typical International School setting.
That's a brief history of the progression of our school. We now have approximately 970 student computers for a school population of about 1700 students, or about one computer for every two students. Starting from 2007 the school has also provided SmartBoards, Document Cameras, and Sound Systems in every classroom.
We are now in a place that 1:1 makes sense for our school. We have teachers who want to use the laptops but can't because the carts are signed out to another teacher. We have students who want to work on video and other projects outside of school, but can't do to common software or platform issues. In other words…we've built a system that makes taking that next step to 1:1 just a logical one. Teachers want more access, students want more access, and it's our job to figure out how to make that happen.
We have taken the time to grow the need for laptops organically. The push to go 1:1 is not coming from the admin, it's coming from teachers and parents. During Chad's presentation to the School Board, the questions they asked were more around why only 1 grade level? Or how do we make sure other students benefit as well? The idea of going 1:1 wasn't shocking, because it's the logical next step.
Exciting times ahead here at ISB. If my blog posts start to focus more on going 1:1 you now know why. 😉