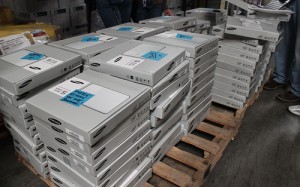 I read an article today titled: Why Hoboken is Throwing Away All of its Student Laptops. It only took me two seconds to figure out what the issue was here….I'll give you a clue….it's not the laptops.
There are some interesting quotes and lines in this article that caught my attention. Now I don't know this school district, I give them an A+ for trying something at least. It sounds like they got caught in the netbook era of computing and just couldn't get out. What follows are some of my thoughts around what went wrong here.
"We had the money to buy them, but maybe not the best implementation," said Mark Toback, the current superintendent of Hoboken School District. "It became unsustainable."
Problem #1: The funding cycle
Changing the mind set of thinking that technology is a one off capital expenditure rather than an operational cost. Technology, much like textbooks, paper, crayons, etc. need to be updated. This is issue #1 with our current system. Here the school was given stimulus money from the government…that I'm guessing…as usually….needed to be spent ASAP and on hardware. So it's great we have this now…but thinking long term…thinking past year 2 or 3 needs to be a focus when starting a program.
None of the school administrators who initiated Hoboken's one-to-one laptop program still work there. Toback agreed to share Hoboken's experiences so that other schools can learn from it.
Personally I believe this is a solvable problem: Hire administrators who understand the changing nature of schools when every student is connected. Yes…you are going to have administrative turn-over. But hiring leaders who understand what giving a laptop to every student really means is on the School Board, the Superintendent and leadership. There are good administrators out there that get these changes….hire them….and then allow them to hire teachers who "get it".
This year alone, schools are projected to spend almost $10 billion on education technology, a $240-million increase from 2013, according to the Center for Digital Education.
Problem #2: The Need to invest in PD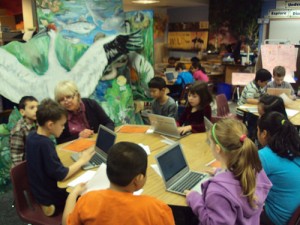 Really this is the issue of this entire program and the entire way the system is structured and goes back to a post I wrote (along with others) about professional development. The National Staff Development Council still recommends 25% of funds for any new project be earmarked for PD. Why…because that's what it takes! Meaning in this coming school year $2.5 Billion of it should be marked for professional development. To this day I don't know any school that does this (if yours does please let me know!). Does this mean lest technology? Absolutely! Does it mean better use of the technology we have available? Absolutely!
We also need to understand the type of PD that is required. When changing the classroom in such a dramatic way as giving every student a connected device, schools need to offer PD that goes beyond 1 sit and get institute, or a conference. You have to go beyond 1 PD day dedicated to technology. You have to think different, you have to start over….if you really want to feel the full impact of what technology can do to the classroom you have to give educators the time, space, and freedom to learn.
This is why Kim and I create the COETAIL program. Schools have come to us and asked us if we could do the whole thing in a year or even six months. No…we can't….it takes at least 3 semesters to do the program and to change the mindset. We're not after a quick fix, rush everyone through a process type of learning. We're after real change…and real change takes time, support and dedication.
Screens cracked. Batteries died. Keys popped off. Viruses attacked. Crocamo found that teenagers with laptops are still… teenagers.
I love this part of the article….as I'm reading this, right away I started thinking to myself….I bet they took away all the personalization of the device. I bet they locked it down for the students…….and……
Hoboken school officials were also worried they couldn't control which websites students would visit. Crocamo installed software to block pornography, gaming sites and Facebook. He disabled the built-in web cameras. He even installed software to block students from undoing these controls. But Crocamo says students found forums on the Internet that showed them how to access everything.
…and there it is. Let's make this clear BLOCKING DOES NOT WORK, EDUCATING DOES!
Problem #3: Technology is Personal
Thinking that technology is not a personal thing is a trap. Technology is very personal and as soon as you put the type of over reaching controls…which don't work….in place you force students to "not care" for the device. I've seen this in many schools. The more freedom you give students with their devices the better they care for them. In fact…..at my last school (ISBangkok) I would say we had more teacher issues with laptops then we had with students. You see even adults struggle with ownership. When the technology isn't yours, isn't personal, we have a hard time taking care of it. More coffee was split on laptops by teachers than any food damage we had by students using them in the cafeteria at lunch time. By blocking websites we force students to be rule breakers. We force them to be hackers….which I guess….is teaching computer skills in one way. 🙂
"Probably in the last few months I've had quite a few principals and superintendents call and say, 'I bought these 500 iPads or 1,000 laptops because the district next to us just bought them,' and they're like, now what do we do?" Powell said.
Problem #4: No District Wide Plan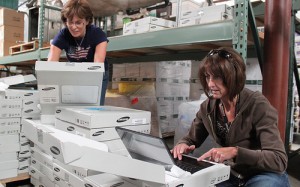 I have seen and heard of this same issue. Mostly at school districts who have decentralized the technology purchasing process. Principals get to the end of the year have money left and want to buy tech. I was at one district office recently when the phone call came in from the principal. She had money to spend and wanted to know how many iPads she could purchase with X amount of dollars. The Director of Technology told her about 12….then she asked how many Surface RTs she could purchase….he told her about 20. She decided to order those as she could get more devices. The Director of Technology looks at me with a look of sadness on his face. She just wants devices without a plan on how to use them, what she's going to use them for, or how to train teachers on them. Because the Principals in this school district were responsible for there own budgets and the technology was decentralized the Director of Technology had no say…and was supporting every type of device across the district.
This summer, Hoboken school staff will go through the laptops one by one, writing down the serial numbers and drafting a resolution for the school board to approve their destruction.

Then they'll seek bids from recycling companies to figure out how much it will cost Hoboken to throw them away.
Problem #5: The Exit Plan
Ah…..the exit plan. To often schools get into a mess like this not knowing how to get out of it. Of course this goes back to Problem #1. If you view these devices as a capital expenditure then you believe they'll be around for a long time. I'm not sure where this idea ever came from, that you were going to buy a computer and have it last longer than 3 years. But it's a mind set we need to change. We need to understand that this is a continual budget line that needs to grow with the program and devices. Textbooks continue to go up in price and we find money to buy them…..we need to start thinking of computers as textbooks. Better yet just have the computers replace the textbook line of the budget you might just come out ahead. 🙂
Again….I feel for this school….they did what they thought they were suppose to do…what everyone is doing….and it's suppose to be easy. You give every student a laptop and BAMM! Learning changes!
If only it was that simple.