Here at ISB we get next week off for a well deserved fall break. Now most normal people here in Bangkok will head to one of the numerous amazing beaches and relax and recharge. To bad I'm not normal.
My next 10 days: BKK – TPE – NRT – MSP – DSM – MSP – NRT – TPE – BKI – KUL – BKK
(I'm sure there's a game in there somewhere)
Yep…11 airport stops in 10 days, with a lot of presenting in between. Let me break it down for you.
TPE: Taipei
In about 2 hours I head to the airport and off to Taipei American School to wrap up the first course of the COETAIL program I'm teaching there. Tomorrow we'll meet from 9 – 6 reflecting on the course, sharing projects, talking about PLNs and setting up Twitter accounts. The second half of the day we're going to have a K12online LAN party so get ready for some new educators on Twitter and be looking for our podcast of the LAN party sometime next week (I'll have plenty of time to edit on the planes).
DSM: Des Monies, Iowa
My next stop takes me to the middle of the good ole' USA to work with administrators and Scott McLeod. I'm a bit worried as what I'll be talking about includes an open web and students publishing openly in order for us to teach them to be safe. The idea of 'open' usually doesn't go over to well in the State and people look at me like I'm a freak. The fear factor is so high around student's publishing that is truly breaks my heart…and from someone on the outside looking in it looks really bad.
My work with Scott takes me to Minneapolis where I'll fly out of.
BKI: Kota Kanabalu, Malayasia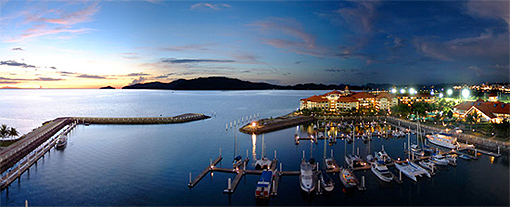 Last stop takes me to the EARCOS Leadership Conference. By far the roughest part of the trip (NOT!). I'll be talking with administrators in the South East Asia Region about technology and were do we go from here. International Schools here in Asia are rolling out 1:1 laptop programs quickly and by 2012 (a date I set 3 years ago) there will be a clear line of those that are and those that are not 1:1 schools.
So, if my blog posts come in waves over the next week it's because I was able to do a lot of thinking while flying just short of 20,000 miles.
Let the fun and travel begin!