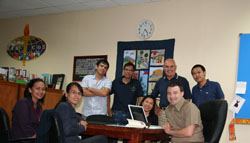 I had two great days in Manila spending time with the EARCOS team looking at how technology and the web can help to streamline some of their internal practices and also looked at how EARCOS can use technology at both it's Administrator and Teacher conferences to help connect participants.
Up until now, the team at EARCOS has been sending a Word Document to those giving workshops. The presenters fill out the form and then e-mail it back. The EARCOS staff then copies that information into a FileMaker Pro database where they create the schedule.
So we sat down and talked and created an online form that presenters will use for workshop submissions. EARCOS doesn't have a license for a FileMaker Pro server (and it's expensive) so the data will be created in a MySQL database. Once all the presentations are in the MySQL database, it can be saved as an Excel file and then imported into FileMaker Pro…taking a total of maybe 5 minutes.
When we started adding up the time the office staff sits around copying and pasting data for the two conferences alone we figured we picked up close to 3 hours of productivity time a week total among the staff.
We then looked at other ways we could use this same method to streamline data collection. Membership directory, Salary Survey, Principal's Salary Survey, Weekend Workshop Proposals, etc.
Their webmaster has some skills and started cranking out forms left and right and also created a web based interface for in office use to view the data. This became essential when we talked about how much the Executive Director travels around Asia visiting the 110 member schools and looking at sites for future conferences. By creating a web interface the director can login and view the data that he needs like the number of sponsors for a conference, or quick access to information about a school.
We then turned our focus on the conferences themselves and this March with the teacher's conference we will launch a conference website in the form of a wiki that will allow presenters and participants access to information and each other before, during, and after the conference.
While I was talking to the staff they mentioned how much time they spend updating presenter handouts for the conference. A presenter e-mails them the material and they publish it to the website. They figured 75% of the time the presenters send a second or third batch of handouts and files to be replaced and uploaded taking time away from the staff to have to continually update the site with the new information.
We decided that instead we would have a wiki where once a presenter was accepted the staff could create a page for the presenter and then give them access to that page to upload, write, and change their handouts as many times as they like. The wiki would also allow workshop participants the option to leave a comment or write their notes as a threaded discussion on the wiki page. Creating a collabertive atmosphere to the conference.
Of course we're using a Wetpaint wiki (Full Disclosure: I am an educational consultant for Wetpaint.com) because it allowed us to do exactly what we wanted. First, we can point the domain name to the wiki so participants do not have to remember a long address (a free service). Secondly, Wetpaint allows us to customize the profile page that each person will fill out to give the information that is relevant to the conference. We don't need to know peoples age. But knowing which school they are from, what position they teach and how many years overseas are all fun facts that could be shared among conference goers. We are planning to use the wiki at the upcoming teacher's conference in March as a "soft opening" and then using it exclusively next year at both conferences. Third, because it's an educational conference it qualifies for ad-free status.
Next, we looked at the EARCOS website itself. We found that any updates to the site were going through the webmaster onto static html pages.
In the office there is one person in charge of the teacher's conference and one in charge of the administrator's conference. When updates needed to be made they would have to e-mail those updates or files to the webmaster who would then put them on the site.
Our thought…..what if they could edit the pages themselves without knowing any html coding?
So we talked about using WordPress as a website with a website theme such as this. This is the same theme we used for a site we set up last year in Shanghai that is working out really well. After the webmaster and I get the site set up and running each staff member will get their own login and be responsible for their own pages. Being able to upload and update files more quickly. This layout will also allow them to feature the great articles that are written by educators throughout the region and submitted for their "Trianual" magazine. Now, not only will the articles be featured in the magazine they will also live on the web helping to show off just how involved EARCOS is in schools in the region.
We even got the executive director to agree to start a blog on the site called "On the Road with Dr. K" where he can post about the schools he's visiting and his travels in the region. He used to have a section in the magazine that he quit writing a couple years ago. He's now getting excited to start writing and sharing his stories again via the web.
In the long run we're hoping to be able to sell ad space on the site to create a revenue stream…but that's down the road a ways. 🙂
All of that in two fulls days. We laid out some launch dates and created a time line for completion of tasks. When I left everyone seemed energized that we were headed in the right direction and everyone in the office would benefit from the changes by gaining productivity time….in an office of 7 that's a big deal!