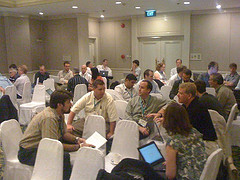 Back at work and reflecting on the tech cohort that I tried to run at the EARCOS Admin Conference. I talked about it here and what my hopes were for the group. It's the first time I've tried to embedd a cohort in a traditional conference model and to be honest I had very limited success.
We met as a cohort during the first session. I was excited to meet the 33 admin who had signed up ahead of time to be apart of the project. During the first session we had 50+ people in the room. I was really excited as people just kept coming into the room asking if they could join.
But it was all down hill from there. Our first session went really well, people were excited and we got them thinking about the skills a worker needed today by having them in groups find answers to these real world scenarios.
On the second day we had about 15 people show up for the cohort reflection….a huge drop from the 50+ the day before. I can make all kinds of excuses of why people maybe did not show up, but at the end of the day they just didn't.
On the third and final day we had 7 people show up for the cohort reflection session. Our discussions were great as we covered everything from 1:1 laptop programs to new and cool tools on the Internet.
There were some successes though. The blog I set up really did become a place to house thinking, presentations and links to resources coming out of sessions. The greatest take away for me and most administrators I talked to was the use of the chat rooms I set up for back channel conversations.
It was very interesting as we used a chat room during two of the keynotes. During the first keynote the chat room was very active, and very off topic. Someone would throw a one-liner into the chat and we'd all head down a rat hole. It was great fun….and if you ask me what the speakers overall message was I couldn't tell you. I was not at all engaged in the presentation. The chat room was much more engaging….even if it was off task.
We talked after the first keynote and I had many come up to me and say how much fun that was and that they were coming to the keynote the next day just to get back into the chat room.
But…the next day we got into the chat, we were all ready, and nothing….there was hardly a conversation. Some links based on websites the speakers was talking about, some stories from those who had connections via a personal story based on the presentation, and questions related to students and global awareness.
It was a completely different chat room….the pace was much slower than the day before and it was on topic, engaging, and relevant to the presentation.
To me it was a fascinating look at how engagement and presentation of information leads to learning. It also leads to the discussion in the classroom why some teachers stuggle with students getting on Facebook and others don't have any trouble at all. Here were administrators who came to the second keynote with all intentions to "screw off" in the chat room…and yet they found the information and presentation so engaging that it didn't happen. I talked about this realization I had with the group of 7 that showed up at the last reflection session. I just wish I would have had the 50+.
I'm not done with cohorts, they are powerful ways to learn, but embedding them into an old model just didn't work. It's like adding technology at the end of a unit, it's just one more thing we have to do instead of "this is the way we do things".
That's why for the Learning 2.010 conference in Shanghia (Sept. 16-18, 2010, registration to open in January), we're creating a conference that at it's core is built on cohort learning models. We're in the final stages of planning and I'll have more information in another month. But I promise you this, it will be a format like none you have ever seen before, based on learning, thinking, and the year 2020.
So I walk away from this conference learning a lot about conferences and how changing mindsets within the same walls of a conference that saw it's 41st installment is difficult. We're so use to doing things this way that anything else is just weird feeling and confusing. We know how this conference goes, we've been doing it for 41 years now….this is the way we've always done it, why change. It's a mind set that when you embed something new in the middle of it, something outside conventional thinking just has a hard time taking hold. Ah…..human kind….we are a strange beast!