As our fourth COETAIL course (Certificate of Educational Technology and Information Literacy) here at ISB is drawing to a close. The students (33 teachers at our school) have one more course to complete next semester. The last hurdle in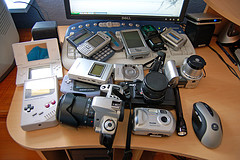 getting their certificate. The last course calls on them to overhaul one of their units of study and embed our TAIL (Technology and Information Literacy) standards within the unit in authentic ways.
During this fourth course we talked about ways to manage technology in the classroom and had the teachers add their thoughts to a VoiceThread to share with others. So I thought I'd share the VoiceThread here as a testimony to the learning happening within the four courses so far. I'm looking forward to working closely with some of them next semester as they implement their new units with our TAIL standards embedded. The course have been co-taught by myself, Dennis Harter, Kim Cofino, and Chad Bates.