I have a lot of random thoughts about the EARCOS Teacher's Conference this year….so if these seem like disconnected ideas/ramblings/thoughts….it's because they are.
The first morning we were here, I picked up the Newspaper that was slipped under our door and flipped through it real quick. The front page had the Prime Minister of Malaysia talking about the general election that they just held here in Malaysia in which the people, according to the paper "acknowledged the unhappiness of the Malaysians" mostly around economic issues."
Now I don't know enough about Malaysia to comment but what really struck me was a small article stuck at the bottom of the second page. I wouldn't have even noticed it if it did not have the word Internet in the title, but I believe this short article copied below sums up a lot of what is happening in societies all over the world right now.
Internet served a painful lesson

Kuala Lumpur: Prime Minister Datuk Seri Abdullah Ahmad Badawi said Barisan Nasional lost the online war in the general election.
"We didn't think it was important. It was a serious misjudgment," he said at the opening of Invest Malaysia 2008.
"We thought that the newspapers, the print media, the television were important but young people were looking at text messages and blogs."
Abdullah said the influence of alternative media "was painful. But it came at the right time, not too late".
The web and SMS allowed parties like DAP, Parti Keadilan Rakyat and Pas, which have long complained of bias in the traditional media, to reach voters directly.
What a great way to start the conference. I ended up using the article in two of my sessions to show that this stuff is for real and it's affecting societies all around the world. It was a great way to show that this isn't an educational issue, it is a global issue on how we communicate and how younger generations are very much dialed into this changing communication landscape.
---
I did plan to Ustream all four of my sessions plus do two live podcasts over the three days. But the Internet connection that was set up with the help of ISKL was just not working very well, and worst off it didn't reach into the room I was presenting in, so I didn't have access for any of my sessions. Try doing a session on RSS and Wikis without an Internet connection (I don't recommend it).
I did record a podcast though over two days. You can have a listen to what teachers thought about the conference as well as some more of my ramblings over at the On Deck site.
---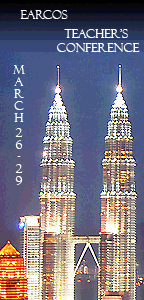 It's been fun (not sure if that's the right word, but it does bring a smile to my face) to watch teachers here with laptops struggle as I have to connect to the Internet. I use the word fun not because I laugh at their failure but because here they are trying to connect, frustrated that they can't access the information they want when they want it, getting upset, and yet we do the same to our students day in and day out in our classrooms…we focus them to disconnect! As I write this sitting in an open area I can see 15 teachers with laptops open, most huddled around outlets, talking, checking e-mail, and reading. Some in chairs, some sitting on the floor, but all engaged with whatever task it is they are trying to complete. Wireless is working at the moment, but is slow…funny how people don't complain about the speed of the Internet when the only other option is not to have it at all. 😉
What we do need though is more technology people at educational conferences. It's easy for us to stay in our bubble of Ed Tech conferences, but if we want to expand this conversation, we need to go where they are. Teachers that come to an Ed Tech conference have already taken the risk to actually go to that conference, but many teachers would take a teacher conference over a tech conference. So we must go where they are! I have loved that there has been at least one presentation on technology each session here, and everyone that I've gone to has been packed. Kim Cofino, Dennis Harter, Paul White just to name a couple of technology presenters who all had great sessions that pushed people to think deep about their teaching, curriculum, and school set up.
We need to get outside the Ed Tech Bubble to expand and influence change.
---
Kuala Lumpur is a great city that if you are in Asia and have a chance to visit I strongly suggest!
Thank you too to everyone who came to one or more of the four presentations I did at the conference. For some who might be reading for the first time…welcome to the blogosphere, to a connected world of learning! To those who are regular readers…..this is just another rambling post. 🙂
[tags]EARCOS, conference, earcos08[/tags]
Technorati Tags: Kuala Lumpur, EARCOS, kimcofino, dennisharter, paulwhite, education