2013 is upon us and even though we are 26 days into the new year, I have made very little time to reflect openly here on the blog about the past and what the future might hold.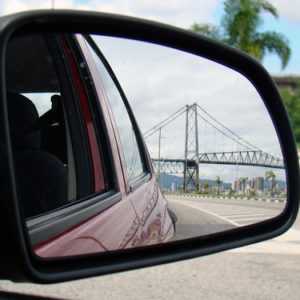 When we moved to Saudi Arabia in 2002 and bought a car, I learned quickly that you can not drive looking in your rearview mirror. Driving in Saudi has one rule…your job is to look where you are going not to watch what is going on behind you. In fact the rearview mirror becomes more of a distraction than a safety device.
I have been thinking about that a lot lately as I look back over this past year. It is great to look back and reflect on what you have done, what has worked and what has failed, however if we try to drive by looking behind us we will not be very successful. Reflecting is a good thing and it can help us understand where we have come from but if we try to drive by using our rear view mirror by only reflecting and not looking forward, we will crash. The "good ole days" are behind us and what "might be" stands in front of us. We cannot go back in time (yet) so we must reflect on the past and then focus on the future.
This past year was an incredible journey as I made the transition in June from full time educator to full time consultant. A scary but exciting jump; one that has allowed me to do what I feel in my heart is what I am supposed to be doing at this moment in time.
Looking in the rear view mirror:
Failures of 2012:
Reach Version 2:
The goal was to have the second version of Reach out in August. I thought I would have all this time after moving back to Seattle to spend updating the book. Somehow I forgot just how much time and energy goes into moving….you would think doing it every three to four years I would remember! Honestly it has only been since about November that we have felt settled into our new lives here in the States. So the second version of Reach never happened and at this point might never happen.
Another Book:
I had dreams of not only finishing a second version of Reach but of publishing another book that is rolling around in my head. I tried to tell myself that I needed to finish Reach first…yet honestly I don't think my heart was really in redoing Reach and so this "Other Book" never even got started. But it is still rolling around and maybe I'll make time this year to write it….maybe not.
More Blogging:
I had all these ideas about all these blog posts that I was going to be able to write and yet my blogging never really did pick up. Oh well….
2012 Accomplishments
Ran my first half marathon
This past July I finally ran my first half marathon. Over the past two years now I have watched in awe as my wife ran more halves than I can remember, a marathon and a 50K (31 miles). So to finally run my first half was a great accomplishment…although I could have done without my wife running backwards in front of me. 🙂
COETAIL


The COETAIL program continues to grow and expand in International Schools across the world. This summer, Kim Cofino and I started a partnership creating COETAIL LLP. This will allow us to expand the program, bringing on other instructors and ultimately serve more schools. I'm excited as the program continues to evolve, spread, and produce educators who have a deeper understanding of technology and its use in the educational environment. The COETAIL community just surpased 300 members and will surpase 400 by the end of the year. If you haven't checked it out I encourage you to do so.
Ninja Program


The Ninja program continues to amaze me. With over 1000 educators who now have access to the files and stories of how people are taking it, changing it, using it, and contributing to it- I'm just blown away. I have had offers to monetize the program…but this is my way to give back and as long as I can afford it, I will keep it free for all to take, use, and mash-up.
Moving to Seattle
Anytime you uproot your entire life, it's pretty much chaos….to do it every 3 to 4 years just makes my wife and I crazy I guess. We are loving living in downtown Seattle, spending time with family and friends and looking forward a little bit….can I just say a full season of Mariners baseball!
Looking Forward:
Consulting
If someone would have told me in June that by December I would be booking conferences, and schools a full year in advance, I would have laughed and said in my dreams. But the gigs keep coming and the calendar is filling up fast. I love teaching, pushing myself, and how every school and situation is different, therefore having to constantly innovate and think what is best for a particular school or audience. It's teaching teachers and right now that is where my heart is at.
COETAIL
Everytime I think we have started to hit the end of the road with the COETAIL program another cohort starts up. Just last week I visited Korea to start a cohort at Seoul Foreign School. In about a week's time our Online Cohort will start up with well over 60 people registered. Kim's numbers at YIS are looking great and we have cohorts starting in Vietnam and Bangkok as well. Our first out of Asia cohort started this year as well in Ethiopia of all places. So the expantion continues.
Ninja Program
Some big ideas moving forward with this program that have me really excited. Stay tuned…but I think you'll like them. 🙂
GAFE Class
I am excited to be launching the Google Apps For Education Class for all Educators. International Educators can take it for SUNY Graduate credits and US Educators can take it for a certificate of completion. An 8 week course that not only teaches you about each app and how to use it with students, but also forces you to create a lesson or unit to implement in your classroom using Google Apps. Teachers have been asking for the course so I'm excited to get it started.
More Running/Living Healthy
I'm continuing to run and workout and just live a healthy and balanced life. I can't wait for the weather to warm up so I can go back to running barefoot or in my five finger shoes. I love the time I get to spend with my wife running…and who wouldn't with views like this. Seattle really is a great place to live and I am excited to take full advantage of it as we continue to make our home here.
As for education and technology, well there are a lot of people making predictions on where this is all going and where education is going in general. In fact, over the past couple of years I have made predictions based on what I was seeing. It is a slow train but a train that is definitely headed into a more digital world. We're at the point now where the questions are changing.
It's not a matter of IF we will have digital textbooks but when they will become the norm.
It's not a question of should students have a digital device, but when will every student have one, two or even three.
Of course this is the easy stuff because it is just stuff. This is the way society is moving and education is being dragged along whether it wants to be or not.
The hard questions and changes about the purpose of education, the pedagogy behind learning in a connected environment, and exactly what should students be learning today are questions that we will continue to struggle with. We know we need more science majors, we know we need more students interested in engineering, computer science and innovation. We know those are where the jobs are at and where they are being created. Yet at the same time, I wonder how many teachers K-12 are taking time from their 'curriculum' to discuss major events such as the Mars Rover landing, what we are learning from it, and just how amazing this whole thing is with students.
It wasn't that long ago that I was sitting in 4th grade and the teacher wheeled in a TV so we all could watch the Space Shuttle take off. Now we land a Rover on Mars and we don't talk about it? It might just be our greatest scientific accomplishment of this decade and I'm wondering how many teachers are talking about it with students, getting them excited about what is possible.
We cannot drive education forward by looking in our rearview mirror all the time at what used to work, what used to be good, and what we used to teach. Driving through your rearview mirror is never a good idea. The road ahead is full of opportunity, if we focus on what can be rather than what was, 2013 will be a fantastic year!
Photo Credit: Kim Jones