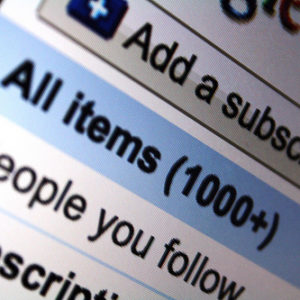 Now don't get me wrong, the announcement that Google Reader will no longer be after July 1st came as a shocker….but then again…not really.
We know where Google is headed…everything tied to Google+ and Google+ integration across all apps. Which now that I see that and treat the Google ecosystem that way, well, it turns out it is a pretty nice feature.
But what this means is that apps that don't "fit" into Google+ are probably on the outs (worried about Google Sites as well…who else uses them besides education?).
So instead of getting all freaked out and sad or nervous, which is the tone of most the e-mails I have received……let's get excited!
First off Google Reader was not the first RSS Reader. I personally wouldn't even put it into the "Early Adopter" era of RSS Readers. I had 4 others before I moved to Google Reader. But it is safe to say that Google Reader pretty much became the main RSS Reader of most people. Not because of its ease of use, but rather because it has an open API which allows sites like Feed.ly and Flipboard to connect to it.
Secondly there has been very little innovation in the RSS Reader area for some time. By Google now dumping Reader, it has left a big hole in the middle of the tech world and that is where the excitement comes in. For the first time in a long time, we're going to see some innovation in the RSS Reader area. There are engineers, companies, and programs I'm sure that are already working on some new solutions for us all. We have until July 1st, so let's not panic and see what these innovative people come up with. It is going to mean some playing around of new systems but who doesn't like to geek out a little now and then?
Here are a couple of the things I will be looking for in my next Reader:
Web-based with offline support: Much like Google Docs now works and syncs seamlessly online and offline via the Chrome browser, I want this in my next Reader
Ability to have one beautiful reading experience on all my devices (iOS and Android). Really enjoying the experience of the Google+ app on all the devices….seems so sleek and fluid
Ability to comment right from app: Not sure if this can be done but would love if I could read a blog post and comment right from the app. Even if this functionality was only for the major blogging platforms (WordPress and Blogger) that would be a start and a HUGE benefit to everyone. Don't even know if this is possible but it would be powerful for sure.

Ability to share with social-networks

Exit strategy: Have to be able to import/export OPML files like other readers.
What functions would your dream RSS Reader have? It's time to dream and be innovative.
If you are building a new RSS Reader and are looking for beta testers…..shoot me an e-mail and I'd be happy to be a tester and give feedback. Actually if you need it, I have hundreds of educators you can beta test on over at COETAIL.