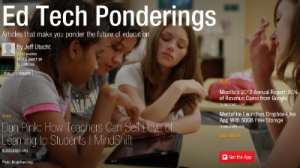 OK…so let me clarify that title. I honestly think textbooks are on their way out…or at least I hope they are. Really it should read "Flipboard as core curation artifact for classrooms" but that wouldn't have you here reading now would it. 🙂
I'm in love with Flipboard. I have been for awhile now….it's one of the first apps that gets downloaded on all devices. But lately as I've been thinking about the death of textbooks and what might replace them I have started to dig deeper into Flipboard and really think it has a ton of potential to be that core curation body of knowledge for teachers and students.
Why Flipboard:
Can be installed on all devices! I mean all devices. Windows, Mac, iDevices, Android. That by itself gives it a top marks!
Beautiful layout: Design matters…and Flipboard knows that. Every time I show Flipboard to a teacher or student they instantly love it…what's not to love. Big pictures, magazine flare, beautiful transitions.
Connected: You can connect Flipboard to a ton of different accounts and at the same time connect it to hashtag conversations giving you all kinds of different ways to bring information together in one space.
Flipboard Magazines:
This really is the game changer. Flipboard rolled out magazines a while a go. Allowing a user to create a magazine and "Flip" things into it. Others can subscribe to your magazine and see what you find interesting. You can check out my magazine here ——————————————————->
So basically a teacher would have a flipboard account….set up a magazine for thier class and then "flip" all the articles, resources, etc they want students to access into the magazine. The students subscribe to the magaizne and have all that content dispalyed beautifully on their screen….no matter what that screen is.
Class as Content Curators:
Of course….that would work but I think we can go farther. I don't want the teacher finding all the content for the course. I want students to have the ability to add content to their "textbook" as well. Content that we can discuss in the classroom, that can spark conversation…the real reason we come together..to be social. What if we could have all the students in a class adding to the "textbook" have them find things that interest them on a given topic and allow them to "flip" that into our "textbook" as well. Flipboard allows that too…where you can invite others to add to your Flipboard magazine. Game changer!!!!
But Wait There's More!
Because ever student is going to need a Flipboard account to make this work they also will be able to create their own boards around content they enjoy. The class magazine (aka textbook) becomes part of that but so does other things that interest them. Also…..because you can search a twitter hashtag and add that to your Flipboard. A class hashtag now becomes part of the conversation. Where kids can tweet something, hashtag it with something like #engp1ju (English Period 1 Jeff Utecht) and have all that content in their new "textbook" as well.
Social and Academic
I talk a lot about breaking down the barriers of social and academic. That this is the world we live in where we work and are social at the same time. A Flipboard account would allow students to have both. A student could have a Flipboard account that had:
Class Magazine (textbook)
Class Twitter hashtag
School Twitter hashtag
Their Instagram account
Their Facebook account
Google+ Account (School or/and personal)
Their own Twitter feed
News from things that interest them
Their Tumblr account
[box] Bonus: Check out the Flipboard tutorials here to get started![/box]
Easy Sharing
Then there is the sharing component. I read something in my Tumblr stream that applies to what we're talking about in class and I can…with two clicks….add that to our class textbook.
Every student is using Chrome of course (they are right?) so we add the Flipboard extension to Chrome and again in two clicks students can add any website they are on, any article they find to the class textbook.
Or we share it to the class twitter hashtag. Or we share it to our personal account. Our personal and academic lives overlap and what we have is……just life.
If you know of a class…or your class is doing this…please let me know. Cause I think this has HUGE potential to bring everything together. I'm even starting to wonder if it would be worth pursuing for COETAIL? To show teachers who we can create a "textbook" based on the latest things people are reading, tweeting, finding, and sharing. Kim and I might need to have a conversation. 🙂