If learning something new was easy everyone would do it.
One of the reasons I love working with school districts and teachers over a long term basis is that you get to really dig in and do the work.
I have started many presentations over the past year with this:
"Raise your hand if you were ever taught in your pre-service program what learning looked like in a 1:1 environment?"
"Raise your hand if you were ever taught classroom management strategies in a 1:1 environment?"
"Raise your hand if in your Master's degree you learned teaching and learning strategies for a 1:1 environment?"
"Raise your hand if the curriculum you have to teach from was created for a 1:1 teaching and learning environment?"
In the past year I've asked these questions to hundreds of educators. The only question that ever sees a hand go up is the Master's degree and even then we're talking 1 or 2 in a staff of 300+.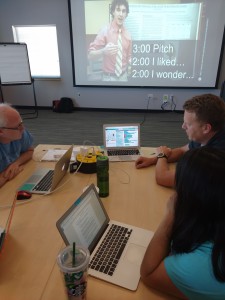 Here's the thing….once your school or district decides to go 1:1 everything changes. The curriculum in a moments notice needs upgrading. Your classroom management changes, and what we can do, know that we need to do, and how learning happens all changes. It changes in ways that most educators were never taught to teach in.
These are the reasons long-term focused PD sessions need to be implemented once a school decides to go 1:1. No one-off conference or one-off PD day is going to be able to address the deep pedagogical shifts that happen once every student has access to the Internet the moment they want to learn something. It changes everything.
School leaders need to understand that investing in this type of long-term, pedagogically focused PD is the difference between devices becoming replacement for paper and pencil and becoming something transformational in the classroom.
It's not a teacher's fault that they don't know how things change, because chances are they were never taught to be prepared for this change. So for better or worse we have to "go back to school" and learn how to adapt our teaching methods, ideas, and understandings to a new connected classroom where we have leveled the content knowledge playing field.
We have to "do the work" to be OK with this and to become learners again ourselves. To open our minds and understand we're not saying any one is a bad teacher-there isn't judgement. We're saying we changed the landscape on you and with that comes a new way to approach learning.
Schools need to understand when they decide to go 1:1 they must make sure to invest pedagogically in their teachers as well. Not PD focused on devices and software but focused on new ways of learning and understanding what the 4 C's really mean in today's connected world.