I'm excited to be partnering with Becky Berg, Superintendent of Marysville School District #25 (MSD25) and Scott Beebe, MSD25's, Chief Technology Officer, as we are submitting a case study proposal to South by Southwest EDU conference (SXSWedu).
I have wrote occasionally here about the work the Eduro Learning team and I are doing in partnership with Marysville as they roll out over 5000 Chromebooks to students 6-12 in their district. I use the term "rollout" loosely, as what Becky, Scott and the Board decided to do was not so much a rollout as a leapfrog. In the video below, created and produced in partnership with a Marysville student, you hear Becky talk about what the technology was like in the district before they passed their tech levy in 2014.
What the Marysville School Board and the leadership understood was that "rolling out" devices over a long period of time will not help their students tomorrow. If we wanted to help them tomorrow, we needed them to have the devices today. So they "leapfrogged", skipping the laptop/Chromebook in carts phase, skipping trying to figure out what is the most equal way of getting devices in the hands of kids, and they just did it. Here is a quick rundown of their timeline (though Scott has made a way cooler one here).
February 2014: The community of Marysville passes the Tech Levy and infrastructure work begins
February 2015: Working WiFi is deployed in all schools for the first time
May 2015: Every teacher receives a new laptop. The district makes the jump from desktops to laptops for educators
May 2015: Rollout a 3 year, 12 full-day training program for teachers partnering with Eduro Learning
November 2015: Deploy over 5000 Chromebooks to every 6-12 student
August 2015 – June 2019: A total of 180 training days equalling 1260 hours of training for roughly 480 educators
In under two years, MSD leapfrogged their existing education model to something completely new and different. I have worked with many schools both here in the US and overseas and have never seen a school district commit to changing the teaching and learning landscape as quickly and as fully supported as Marysville has. At SXSWedu, I want Becky and Scott to be able to share their district's story of how they did it, bringing the community along with them, supporting teachers and most importantly doing right by students.
As for my part….Marysville chose Eduro Learning from a host of Professional Development partners to oversee the teacher training commitment that they made to their community, students and teachers. Why did they choose use? You'll have to come to SXSW to find out. 🙂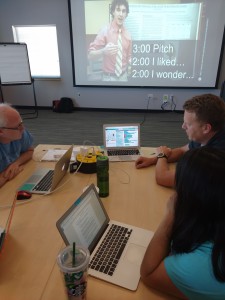 One thing we believe at Eduro Learning is that there is no need to hide what we are doing. If anyone else can learn from us and it helps students, then part of being a teacher is helping others. That is why all our materials that we use in our trainings can be found here, on our PD site. Through the trainings you will see how we balance helping teachers understand and use the technology tools that are now in the hands of every student, and the pedagogical shift that needs to take place to change the teaching and learning culture of a school district.
Kim Cofino and Chrissy Hellyer, both career educators, are our curriculum writers, not just for the teacher training but the six administrator trainings that administrators will go through in this process as well. The entire Eduro Team runs the trainings face to face and supports teachers from afar in between the face to face trainings. If we expect teachers to teach in a blended classroom, then we must give them the opportunity to learn in one as well. So we created a blended learning system that allows for learning to take place between the face to face sessions. A truly blended  PD experience as we change the teaching and learning culture within the district.
Has it been smooth? Nope….and that's what makes it exciting. It's education after all and we're trying to build the airplane as we fly it! You can't pause education, the kids keep showing up as we work through the transition. The Board continues to support the teachers' efforts by creating a Social Media Policy, one of the first in the State of Washington, and by coming to some of the trainings themselves to show their support for their teachers. I cannot tell you how fantastic it is to work with a Board and Leadership team that understands this is a journey, not a destination we're trying to get to.
The work continues into this year of course, as we continue to build understanding with teachers, change paradigms within the community and most importantly support students in preparing them for their future not our past. I felt the need to write about this, not only because I think it is important work, work that needs to be shared so others can benefit, but this is also the information that doesn't fit on the SXSWedu application.
Please help us by taking a few minutes (SXSW doesn't make it easy…you do need to register an account) and vote for our Case Study session at SXSW so that we can share the Marysville Story with an even larger audience. Thank You!