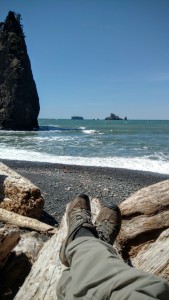 I sit here….on a piece of driftwood wondering where this log came from. For sure somewhere here off the Washington coast…I think.
For two days this will be my thinking spot. The spot where there is no connection. No cell service, no Internet. There is my wife, myself, these waves and this fallen tree.
I look to my right and see our bald eagle friend who obviously has a nest near by. He/she has been a beautiful site to watch over these two days. Yesterday morning it flew by us so close you could hear the wind between its wings. It turned its head towards us, checking us out, then keeps on its way looking for breakfast. Today it sits on a rock island, every once in awhile taking flight to soar in the wind and find a new high perch to take in this breathtaking view.
When we talk about the power of disconnecting, this is always what comes to mind. This idea of getting outside our day to day routines, sitting back and enjoying nature, our surroundings and allowing our mind just to….be.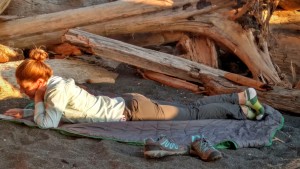 My wife uses this time to read. The backlog in her Kindle dwindling by the moment. I use this time to write. We both take this time to reflect on life, on ourselves, on us.
Disconnecting is so important. Often I hear teachers say "These kids today are always connected." and it's true…we're ALL always connected.
Recently at an admin training day I asked roughly 80 administrators to put down all their devices, close their laptops, turn their phones upside down. Then move their chairs back from the tables and put their hands in their laps. The room was tense and we lasted 42 seconds before someone peeked at their phone.
You're not going to disconnect when you have devices that can and will connect. It's not an age thing, it's a society thing. We talk about needing kids today, all of us today, to disconnect. What are we doing in schools to help kids, our teachers, and families understand this? It's hard to disconnect. Finding a place that is "off the grid" is difficult today, not impossible but difficult.
It is important to connect to nature, to our loved ones and most importantly to ourselves. We need to make sure we're helping kids today understand that.
That's all I have….now back to watching my bald eagle friend do what it does best. Just being what it is.