Yes I'm still all about Seth's new book Tribes and leading communities. If you want to know what skill is going to be needed in the future. It is going to be someone who understands and has the skill to create and lead a community of people. Someone who can organize and help the community lead themselves.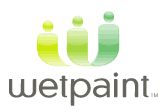 When I approached Wetpaint last January I had to sell them on the idea of what they needed was a leader for their educational community. Someone who understood the needs of educators. Someone who spoke their language, understood their concerns, and who could help them figure out what you do with a wiki once you actually sign up for it. That person of course was me. 🙂 ….or so I hoped it was.
Wetpaint took a risk on me and the idea that by creating a community around their product, they were in fact creating a user base for their product. It's not a new approach. Why does Google give away Google Apps to education, or Microsoft give away $3 copies of Windows XP in China. It's about growing a user base around your product. Because some day those kids are going to be out of school and what they will know and turn to (you hope) is your product.
I approached Wetpaint because I believe they had the best product on the market, and although late to the free wiki for education space they had a product that once used would sell itself. Add to that a community of educational users for support and you have the makings of a great community and web service for educators.
In the seven months (5 officially) that I have been working with Wetpaint the communities numbers at the Wikis in Education site have gone from around 200 to 1200+. I wish I could say it was all my doing, but again I believe the service sells itself and with more educators getting on board we would naturally see this increase.

What I do think is different those is the supportive community that has formed at the Wikis in Education site. The Discussion Forums have started to fill up not only with questions but also answers from other wiki users. The community is starting to breath on it's own. I'm there to support, answer questions, talk strategies, and once a month give a tip and wiki that users can use as they continue to develop their own space.
In other words, the tribe is growing, and it's starting to support itself. My role (as I see it anyway) was to create the space for this tribe to grow, to reduce barriers and construct a framework that lead to learning, interactions, and a feeling of community. We're not done by any means but the community is growing and…fast.
The first thing I did was put some structures in place. I created pages for educators to share there wikis with each other. You can visit Wikis in the Classroom for a growing list of wikis used in the classroom setting. Or how about Higher-Ed where you can view some PhD candidates as they write their dissertations on a wiki. Or my favorite page: Student Created Wikis these are wikis that students have gone off on their own to create based on school projects or something they are passionate about.
What these pages represent is a structure for sharing and collaboration. New to wikis? No problem, have a look and get ideas on how a wiki can be used in almost any classroom at any grade level.
Once the structure is in place you mobilize your tribe. You support them, you answer their questions, if you don't know the answer you figure it out. You're responsive to their needs, to their questions and you do the best you can at being support. You yourself ask the community for ideas and help encouraging them to support each other as well.
After the tribe starts to breath on it's own you become a facilitator. You keep the structure current, making adjustments where needed. You don't answer questions right away but instead leave a couple of days gap to see if a community members will pick up the question and give it a shot. You support, spread the word, and support some more.
The more I've thought about this over the past couple of days the more I feel like I'm describing a great classroom. A classroom where the structures for collaboration are put in place and take the most work and effort. A classroom that allows individuals to take risks, share ideas, or ask questions to the community in a safe and friendly environment.
Ah yes, leading a tribe is hard work, but so, so rewarding!
(Full Disclosure: I am the Educational Ambassador for Wetpaint.com)