(Scribefire, my blogging platform finally updated to work with Firefox Beta 4 so now I'm back!)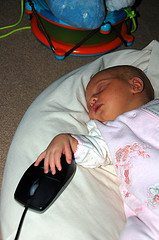 I had the most incredible experience today. First of all I'm loving working with the high school kids. They just 'get it'. I don't have to explain things at a very deep level and we can just fly through the technology stuff and get down to business.
And when I mean fly….I mean…..at the speed of a click.
Today in a 45 minute session with eighteen 9th graders we:
Logged into or created a new blog
Had a refresher on how to blog and all the blog options
Logged into Google Docs for the first time
Searched for a Google Doc, made our copy, shared it with the classroom teacher, and linked it to our blog as a page
Created an account at goodreads.com, talked quickly about how the site works (Facebook for books) and then connected our goodreads.com account to our blog so that when we write a review of a book on goodreads.com it automatically posts that to our blog as a blog post.
Discussed why we want every high school student to have a blog and talked about the "Social You" of Facebook and the "Professional You" of the blog/efolio they are creating here.
Now….even for me that's a lot of stuff to do, and a lot of clicks to get it all done in. I did two classes of 18 students each in 45 minutes. In fact, I could not have talked or clicked any faster. Not one kid could not keep up, in fact I had two students who followed along, completed everything while still reading a book. Are you kidding me? Follow all those directions, and read a book? Yes…this generation has just grown up clicking!
INSANE!
The best part was in 45 minutes we got the students ready to start tracking their independent reading using all the above mentioned tools (see next post for the layout). Now that they are all set up, we can get down to business of reading, reflecting, and tracking what and how much reading we're doing.