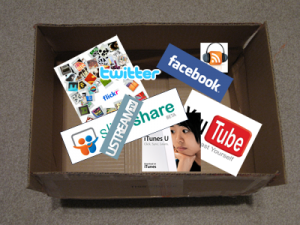 As I started talking about in my last post, we're in the process of setting every high school student up with a blog to use as an e-portfolio. To help you wrap your head around why we're using blogs as our container for this, I suggest downloading and reading the Free PDF I produced at the end of last year.
Once you wrap your head around the idea that these blogs are just a container that we can link into and out of then we can build our portfolio taking advantage of all the Web 2.0 world has to offer.
You'll be able to find everything I'm talking about on my school example blog here. I would suggest opening it in a new window so you can see how we integrated all the parts together making the blog the central location of content/knowledge storage. Our "one stop shop".
Independent Reading Tracker:
First the teachers wanted to have a way for students to track what they were reading and what genres they were finding themselves pulled towards. On top of that they wanted to be able to encourage students to read genres they might not always read, and of course they wanted it in one place that was simple to use and see.
Using our schools Google Apps account. The English Department, our high school librarian, and myself came up with a template that satisfied everyone's need for information. I then took that template and created a Google Spreadsheet using it. I shared that template with the students at our school so that they could make a copy of it.
Once each student had their own copy we shared that copy with their English teacher and then we made the document public, copied the link, and linked it to our blogs. On the example blog you can click on the IR Tracker page at the top to be taken to the template. Student blogs work the same way. Now readers to the blog can see what each student has been reading, and the teachers can see in their Google Docs account what every student has been reading. Picture if you will these 9th graders blogs and Google Spreadsheet four years from now when they are seniors. Think about how much information they will have, colleges will have, and teachers will have about how much they are reading, what their interests might be, etc. Powerful stuff!
Finding and Reviewing Books:
There are some great Web 2.0 sites out there that teachers can use to help students find, connect, and share ideas about the books they're reading. LibraryThing, Shelfari, and Goodreads are the three that we considered. What I was looking for in reviewing the three sites was which one was visually appealing to students (design matters) which one allowed student to connect within the site, and more importantly outside of the site.
We decided to go with Goodreads for three reasons:
Simple and quick to use
Allows you to "friend" other members and get updates on what they are reading
Allows you to connect to Facebook and instantly blog your recommendations
Those are the main reasons we choose to go with goodreads. You'll have to make a choice which one is best for your school/students.
Now, when you head over to the example blog you'll see how this all comes together. A student will go to goodreads, find the book they are reading or have read and add it to their shelf. They will then rate the book and write a recommendation to others about it. As soon as they click "save" on their recommendation, it is sent to their blog as a blog post with all the information about the book attached including a picture of the cover of the book (yes…I used my own book as an example….cheap I know! 🙂 ).
Next the student heads to their blog and quickly puts the new blog post into the category English-IR Reviews (Independent Reading Reviews). Next they copy the URL to that review on their blog, log into their Google Docs account and paste it in their IR Tracking document under blog post review and then fill in the rest of the information.
Yes…that sounds like a lot, but these are high school students and this is on their independent time meaning homework, so we're not taking class time for much of this (although we're hoping to set some time aside each month to talk about it in class….completing the circle). Also, teacher's time of keeping track of student's reading will hopefully be minimized by having all of the student docs in their account. They can open a doc, look what a student has been reading, click on the link to go read the review if they choose, and move on.
So the blog becomes the central gathering place. Connecting the goodreads to the blog on one end and the Google Doc to the blog on the other. In this way the blog becomes the container that just holds the links and information together.
So far the kids seem to be down with it, and the teachers are excited as well. I'm excited because it will also force teachers to meet with me to learn to organize their Google Docs, and spend some time understanding how the whole set up runs (there's always a method to my madness 😉 ).
It's important to find a system that works for everyone, and I think we have a pretty good system here that is sustainable using our school programs. Goodreads is the only site out of our control and that's a risk will take. If for some reason they go away we're not out much. The blog posts will stay, the tracking is still there and we move on to another book site.
Many people will think I'm crazy but a key factor for me was also the ability to send reviews and information to Facebook. We know this is where kids spend their social time, and if we want reading to be 'cool' we need it to be out there where other kids are seeing what their friends are reading and that's it's 'cool' to share that with others…..it's a motivator of sorts and an important one at that in my opinion.