Just a quick post to point to two pieces of information that shows the slow march we're seeing to online learning and how it is going to effect high schools in the near future. The disruption is near for sure.
A small study done by Millenial Branding with college students shows that many believe they can get as good if not better education online. Here are some figures from the survey.
50 percent of students said they don't need a traditional classroom to learn, but 78 percent do think that it's easier to learn in a traditional classroom than online. (associationsnow.com)
Not sure what to make of this. Is it a good thing or bad thing that 78% of students think it's "easier" to learn in a traditional classroom? I have talked to people who have taken online courses and most do say they are more work as you can't "hide" in an traditional class but not in an online course. I would have rather them say it was more educational or it was more "fun" to learn in a traditional classroom. Not sure what the questions were on the survey…but not sure I like "easier".
43 percent say that online education will provide them with courses of the same or higher quality than traditional colleges. (associationsnow.com)
So not all of them believe online is the way to go….but they do believe it is the way education is headed. There are some other good stats to look at in the survey.
As this survey comes out asking millenials in college about online education, News. Corp's Amplify launched a High School MOOC course. The first course is an AP Computer Science course and is aimed at preparing students to take the College Board exam.
The online program, taught by an experienced high school teacher, is free to students. And an added option, called MOOC Local, which provides schools with students in the CS MOOC additional resources, will cost $200 per student but is free to schools for the first year. (gigaom.com)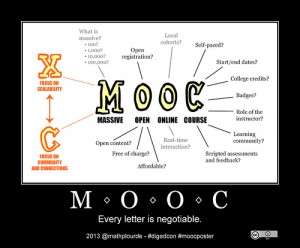 So if your school doesn't offer AP Computer Science and you have students that want to take it, now they have a choice. The MOOC Local option looks like the future to me. Where a school has a "coach" who helps students when they need it, who can be that connection and even connect students within a school. Think how this could change what it means to be a teacher…..
Anyway….just two articles that have me thinking this week. It's not that online learning has to be "better" than traditional. It just have to cost less, give students time to work a job, or fill a course need/want that their local school doesn't offer to start making a mark on high school education. I think of these articles and the day I spent with Alabama ACCESS online educators a few weeks ago where they have the third largest online high school serving over 65,000 students. Or as the director put it 65 – 1000 student high schools. We're going to continue to see growth in this area and the MOOC approach will be part of it for sure.