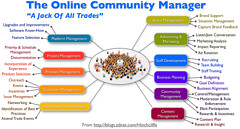 The more I talk to administrators, present to school boards, and persuade educators that we can no longer ignore social-networks the more I am understanding that what schools/districts need is a new position. Now I'm sure in this current state of economy we find ourselves in that this won't happen for a lot of schools, but I do believe private schools and those who are in highly competitive areas (like here in Bangkok) can not ignore this position any longer.
The Position is called an Online Community Manager and it's not a new position. In fact the Wikipedia article about the position has been around since August 2008, so don't think what I'm proposing here is a new position….it's just new to education.
At the recent EARCOS Leadership Conference (Conference for International and Overseas Leaders) I had two packed sessions talking about how schools need to start moving into these spaces. I believe the sessions were packed as leaders understand where their community is getting more and more information from about their schools and they are trying to understand how to engage a community in a new social-networked world. I believe there are two reasons this position and schools in general need to have someone managing their online communities:
1) Protect their identity: Private international schools have a large transient population which means there are always new families looking for the right school. More and more people are relying on the Internet and reviews from others who already go to the school. I'm sure the same hold true for most private schools in other parts of the world. Schools need to be in these social-network places so that they can control what prospective families are being told.
2) Engage their community: I think this goes for all schools today. More and more we're expecting information to find us and want to spend less and less time searching for or going to one more place to get the information we seek. Therefore, schools need to start engaging their school community where they are and stop expecting them to come to where you're at….that's a change we're seeing on the Internet in large part to social-networks such as Facebook where you can "Like" something and have new information show up in your news feed (finally mass adopting of RSS).
According to Jeremiah Owyang there are four tenets of the community manager:
Community Advocate
Brand Evangelist
Savvy Communication Skills, Shapes Editorial
Gathers Community Input for Future Product and Services
Originally these were written for the business world, so I've remixed them as a starting point for educational institutions:
1) A Community Advocate
As a community advocate, the community managers' primary role is to represent the school community. This includes listening, which results in monitoring, and being active in understanding what community members are saying on both school ran and external websites. Secondly, they engage school community members by responding to their requests and needs or just conversations, both in private and in public.
2) School Evangelist
In this evangelistic role (it goes both ways) the community manager will promote school/district events, student accomplishments and updates to community members by using traditional marketing tactics and conversational discussions. As proven as a trusted member of the community (tenet 1) the individual has a higher degree of trust and will offer help and support.
3) Savvy Communication Skills, Shapes Editorial
This tenet, which is both editorial planning and mediation serves the individual well. The community manager should first be very familiar with the tools of communication, from forums, to blogs, to podcasts, to twitter, and then understand the language and jargon that is used in the community. This individual is also responsible for mediating disputes within the community, and will lean on advocates, and embrace detractors –and sometimes removing them completely. Importantly, the role is responsible for the editorial strategy and planning within the community, and will work with many internal stakeholders to identify content, plan, publish, and follow up.
4) Gathers Community Input for Future Product and Services
Perhaps the most strategic of all tenets, community managers are responsible for gathering the requirements of the community in a responsible way and presenting it to the leadership team. This may involve formal recommendations from surveys to focus groups, to facilitating the relationships between the school/district and school community. The opportunity to build stronger relationships through this real-time live focus group are ripe, in many cases, school communities have been waiting for a chance to give feedback.
This of course is just a starting point and each school/district needs to look at these four tenets and mold them for their own school and community.
After reading through Online Community Manager job descriptions I've created the following job description as a starting point for schools (adapted from here).
Online Community Manager
Job Specification
The Online Community Manager will implement the School's Online Community Strategy, managing, engaging and interacting with its larger school community, as well as foster community spirit with students, parents and the community at large. This role coordinates with the Communication and Marketing teams to support their respective missions, ensuring consistency in voice and cultivating a strong community around the school.
Responsibilities
Implement an online community strategy, coordinating with stakeholders across the school to ensure its effectiveness and support to our school community with the

help of various online communication tools
Work with the Communication and Marketing teams to ensure the community is kept up to date, as well as influence the roadmap of new tools and services the school should be using to engage the school community
Generate content and competitions to engage the community in a fun and meaningful way around education and school

initiatives
Moderate all User Generated Content (Wikipedia), liaising with the Legal team where required
Manage and engage communities located in social networking sites including Facebook, Twitter, and other similar social media sites
Act as an advocate of the school and as the advocate of the community within the school, engaging in dialogue and answering questions where appropriate
Monitor effective benchmarks for measuring the growth of the community, and analyze, review, and report on effectiveness of new initiatives
Regularly feed back insights gained from community monitoring into the Communication and Marketing teams, to help them evolve their strategies in a timely fashion
Monitor trends in online community tools and applications. Engage the community in new forms of communication as they become

mainstream
Requirements
Creative, diplomatic, cool under pressure and fantastic interpersonal skills
Strong project management or organisational skills
In-depth knowledge and understanding of online community platforms and their respective participants (Forums, Blogs, Photo Uploads, Facebook, Twitter, Foursquare, etc.) and how they can be deployed in different scenarios
Knowledge of the school and educational institutions
Ability to effectively communicate information and ideas in written and verbal format, and build and maintain relationships
Team player, with the confidence to take the lead and guide other departments when necessary
Good technical understanding and can pick up new tools quickly
Willing to take risks on new tools and new ways to engage community

participation
If anyone is thinking of putting this position into place in their school….give me a shout and I'd probably apply!