Gigaom had a great article this week on some of the push back that MOOCs and Coursera in particular are seeing from university professors.
A couple quotes:
Princeton professor Mitchell Duneier told The Chronicle of Higher Education Tuesday that he will no longer teach his class out of concerns that it could undermine public higher education.

In April, Amherst rejected a partnership with edX citing concerns that MOOCs could take tuition funding from middle- and lower-tier schools and lead to a degraded model of teaching.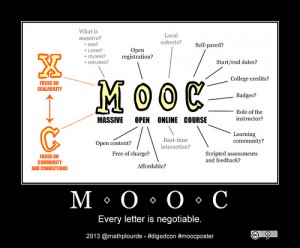 You can read the article yourself and I also encourage the comments. What I am hearing is that things are getting scary here in this MOOC world. That both professors and universities are starting to either feel the effects or see the writing on the wall that things are going to change. The problem is….I don't know if they can really control it or stop it.
When anyone anywhere can learn anything and all they need is an internet connection and a device to access it….things change.