At day two of the #ADE2010 conference here in Singapore we focused our time on thinking about personal branding. Something that I believe all educators should think about and that I've discussed on this blog here, here and here.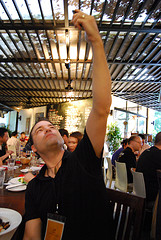 The presentation from Apple I believe was spot on in the fact that educators do not take enough time to pat themselves on the back, reflect, and think about themselves as a brand. Especially international teachers like myself who go recruiting ever 3 to 5 years and need to understand that their name and skills are their brand and can help them in getting hired.
What I'm not sure on….and the verdict is still out…..is why Apple had us spend a whole day focusing on branding ourselves. What's in it for them? The fact that you would have all these educators out there who have websites/brands and have ADE on their resume? I'm not clear on the overall outcome of why we spent a whole day on this at this point…so I'll reserve judgment till later.
Finding your niche
I talked with a couple other ADErs today who were struggling with getting started with branding themselves. I found it interesting that while Apple employees were introducing the concept to us they never talked about niche markets or audiences. Yet I find it helpful to start thinking about what your brand is, what your voice is to first workout who you plan to brand yourself too.
I talked with a high school history teacher who saw his audience as his students. Helping him to think about what it means to be an ADE and who that audience is he will be able to support, we narrowed it down to high school history teachers who are successfully integrating technology in their classrooms. Now that seems like a pretty small audience until you think about just how many history teachers there are in the world, and how many of those are looking for resources on the internet to help them teach their lessons….and you find your audience to brand yourself too (36 History Teachers on Twitter via wefollow.com).
From there he could brainstorm what his brand might look like and design a website that was tailor make for that niche audience on the web today. Apple brought in Joseph Linaschke to help us brainstorm and think through our brands. An amazing photographer who knows how to stage and capture moments. We took time to sit down with him in small groups to bounce our branding ideas off him. I talked about understanding these niche audiences and although he agreed that you need to have them in mind, he reminded me that your brand needs to be recognizable by anyone who comes across it. Personally Joseph doesn't like to think about his audience to much but instead brainstorms and shoots with an idea in mind and then narrow it down from there.
Either way works….as long as you get to what your brand is.
All of this has me thinking of my own brand and the different between branding myself and branding a website. This blog has a brand that is The Thinking Stick…my faithful baseball bat that to this day sits with me in my office. That is the logo of this blog. It might not be the right logo, in fact at this point I'm sure people come to this blog and expect baseball content. My brand does not match my content….I have a logo/brand disconnect and wonder if I should fix it. But with what? 5th graders the other day said I should use a meter stick….not a bad idea….but then is that me? I'm struggling with this….suggestions?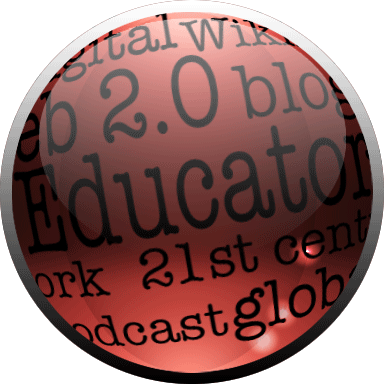 My personal logo/brand is this icon to the left. Created by my friend and artist David Gran it is the current logo of my website and background for my profile picture on Twitter and conference websites. But is it me? Does it convey my message? The problem is I'm not an artist and have never claimed the creative gene. So I'm struggling with what a new logo would look like. This was a great logo a couple years ago when 2.0 was the buzz, but today are we 2.0ed out? Does it still convey the message that is me? What are your thoughts? Your suggestions….really……I'm all ears….and you are my audience! 🙂
So today for me was a thinking day. I enjoyed the conversations I had at lunch, in the hallways and over dinner the most (as per usual). Did I learn something new? Not really…but I did reflect and over the next month or so I hope you will help me recreate my logo to better represent me as an educator, consultant, presenter. So I go to bed tonight thinking, reflecting, and wondering where does all this lead to……