I am excited to talk about one of my favorite shifting schools resources. If you follow us on social media, you may have seen us sharing custom made Jamboard templates. We have a collection of them in our resource library, and we've received so much feedback from educators. Why? Well, my guess is because Jamboard leverages collaboration. I think of it as a space to build an archive of ideas. The specific Jamboard template I want to dig into is called 'Momentum From Mistakes.' On the template you find four quadrants. Each quadrant is a space for the class or group to reflect on learning they've come to by way of a mistake. For example, one quadrant asks students to complete the following sentence: "Now I know to spend less time on (X) and more time on (Y)."
Why would I recommend you consider having a collaborative space to reflect on mistakes? In my experience, when we start a dialogue that reminds us that none of us are perfect, and that all of us can learn from mistakes, we take some of the shame out of mistake making. If you know me well, you know I love geeking out on new technology. Guess what, whenever I am trying a new edtech tool, I get to know it through mistakes.
Often when someone tells me they don't have the confidence with edtech, we talk a little more, and I realize–ah! They think those of us with confidence never make mistakes. And I feel it is my responsibility to let them know that I make mistakes with Edtech all the time. And it is because I've made hundreds of mistakes that I have a stronger sense of digital literacy. Whenever I think about all the mistakes I've made with technology, the memories of being in college and working on my wife's Windows 3 computer. She used to hate it, cause I'd be geeking out and would have to reinstall the operating system at least once a week…..and of course always right before one of her papers where do…ah those were the days!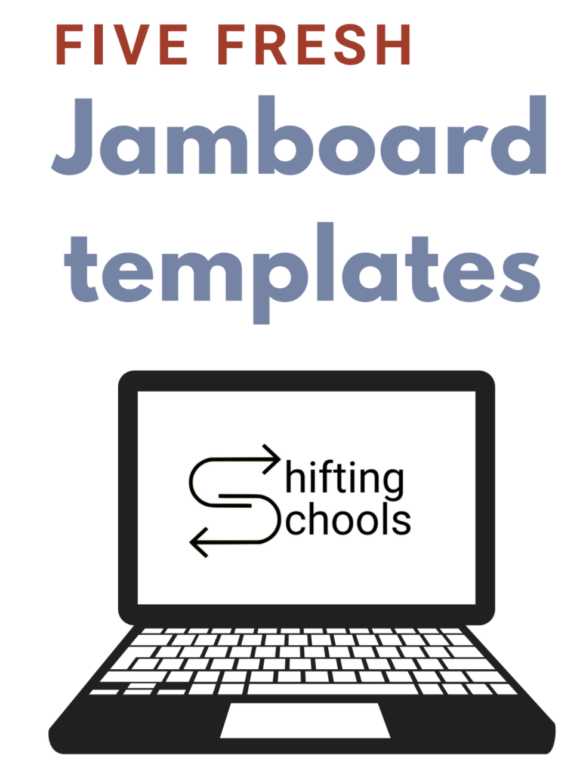 For too long there has been too much silence around mistakes in learning. We see someone who appears successful in a given subject area and we make assumptions. Even the phrase 'natural leader' is in my mind a misguided notion. In my career I've led a number of teams. I've even been told I am a natural leader. Guess what? I'm not! I work really hard at it. I look for feedback, I reflect, and I consume a lot of media about leadership. One of my favorite bloggers and thinkers when it comes to leadership is Dorie Clark. In a recent piece here's how she defines great leadership:
"It's about leading others consistently and allowing them to learn and make mistakes in a safe environment."

Dorie Clark ~ Forbes.com
That's exactly why I love our momentum from mistakes jamboard template. It says let's make room to discuss the different mistakes we are making. It asks us a fundamental question: How do our mistakes in the past and present help us navigate future learning?
When you check out the template in our free guide, you might decide to change the prompts we have—-and I want to always reiterate that our Shifting Schools templates are never meant to be prescriptive–they are always meant to inspire even better ideas. So if you find yourself coming up with other sentence frames, I would love to hear how you have taken our template, remixed it and made it better. You can email me about that via info at shifting schools dot come. 
In closing I want to share two of my favorite quotes from Baseball and consider what they tell us about the significance of mistakes. Ready?
Quote number one is from Babe Ruth who famously said:
"Every strike brings me closer to the next home run."
Quote number two is from Reggie Jackson who said:
"You can't steal second base and keep one foot on first."
As an educator how would you take those words of wisdom and apply them to your classroom context?
If you are a big baseball fan like me, you may already know that in 1923 Babe Ruth struck out more than any other player in the league. The more well known fact about Ruth's career is that he was the first player to ever hit 60 homers in a single season. Is he defined by his mistakes or by his success?
Reggie Jackson is legendary for many things-and again if you know your baseball history you may know that he was the first to strike out 2,000 times in a career. That's a lot of swinging and missing. And you know what else Reggie Jackson did in his career? He found himself on the American League All Star list 14 times. He was on the world series winning team FIVE times.
In fact, watch any baseball game and you'll see mistakes all over the field. A mistake pitch from a pitcher that ends in a homerun, or a swing and a miss. Why do I love baseball…it's pretty much the only thing you can be successful 30% of the time and considered an All-Star.
And the mental mindset you need to have to make that many mistakes and continue to be strong mentally is exactly what we want to work on with students.
Making mistakes, making many, many many mistakes is part of the journey. As I often say in my trainings, failure is everything that happens right before you become successful. We fail our way to success…that's life. We have to change the narrative about success. Being successful isn't about being perfect. For both Jackson and Ruth–their experiences of success were most likely linked to being on a team where others encourage them, and where their mistakes were taken as opportunities to learn to get better. And that's exactly what the fifth resource in our free guide intends to do for students. Let's be open about making mistakes, let's learn from them and allow those mistakes to lead us to success.