If you follow baseball than you know that there have been two perfect games thrown this year. These are games in which the pitcher only pitches to 27 batters (3outs x 9innings). It's a rare thing, in fact it's only happening 20 times to date in all of baseball history. It's called the perfect game. Where everything just works, just is….well…..perfect.
As this year comes to an end (3.5 days and counting) I'm put into reflection mode. Thinking about all the things that have made this year fun, frustrating, amazing, and special. All my memories come back to this being the perfect year with the perfect team.
It's not every year that you get to go to work every day and sit in a large open no-walls office with 3 of educational technologies finest to learn from. But like all things perfect they must come to an end. I'll always remember this year as "The Perfect Team".
Two things are happening that are breaking up this perfect team.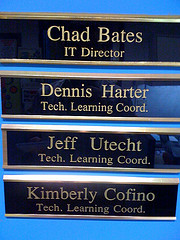 First is the fact that both of my colleagues (maybe that says something about me 😉 ) are moving on to bigger and better things. I wrote a post April of last year on why every school needs a Kim Cofino. I'm kicking myself now, as Yokohama International School, in Japan must have been reading and decided to offer Kim and her husband a fantastic opportunity to do something different. The International teaching cycle hits again as we all continue to move on to new adventures in new countries, travel the world, and enjoy life. YIS is lucky to be getting such an amazing ed tech leader, a true "get stuff done" person who is focused and understands how to use technology in authentic ways like nobody I've ever met. Kim can brainstorm a lesson, write it up, get buy in, and have it implemented in no time flat. The girl is a workaholic, tech embedded lesson creation machine. Perfect for YIS as they move to the MYP program next year and need a leader to help them get the program off the ground. YIS is also a 1:1 Mac school which I know Kim is excited about as well. She was an amazing colleague before we worked together here, and I know we'll remain close working colleagues in the future (in fact we have a little something up our selves already….stay tuned! 😉 )
Then there is Dennis Harter. He's been the corner stone in the Ed Tech department for the past five years. His insight, thought provoking discussions, and humor will be missed. At least he's not going to far and I have to say I'm excited about his move. Dennis will be the high school V.P. next year and with me taking his place in Ed Tech as the high school Technology & Learning Coordinator (TLC), it's going to be fun having that kind of tech support in the admin office. He's already secured me a room to start "ISB Radio" next year (more on that next year). He understands where we are headed as a technology department, and how teaching and learning are changing. You could not ask for a better administrator to support you than one that's coming from your own technology department.
So that's the first thing…..that I'm loosing two amazing colleagues that I've learned so much from these past two years. The second thing is the actual breaking up of the tech office. At the moment all four of us (Chad Bates (IT Director), Dennis, Kim, and I) all sit in the same office. We hardly ever hold an official meeting as our day is full of constant learning, throwing around ideas, and supporting each other and our teachers as a whole. We agreed early on that we did not care what division a teacher was in, if they came to use for support we'd support them and nobody's toes would get stepped on. It's worked great and I believe we have supported ISB as a whole to the best of our ability, because we were able to pull from our strengths as a team to support.
Next year the administration decided that we could better support teachers if our office was in the divisional area rather than in a central location. So next year the office space that we now all share will be left to only Chad. Chrissy Hellyer who will be taking my spot in the elementary school will have an office space in the ES. I will have an office space in the high school and the new middle school TLC will have an office in the middle school. I understand that the administration wants us to be more "visible" in our assigned divisions, but what we are giving up for visibility is unconditional support.
Yesterday was a perfect example. Dennis was in a meeting and his phone rang. I picked it up and ran to a high school classroom to help a teacher with student blogs. I walked in today and Chad is helping a middle school teacher with a Moodle issue. Our support for teachers across the school is unconditional and timely as we can help as the need arises. I worry that next year if I'm out of my office helping a teacher or in a meeting that if my phone rings nobody will be there to answer it, nobody there to help a teacher just-in-time learn something to teach students just-in-time.
We will also need to meet as an Ed Tech team at least once a week to bounce ideas and solve issues together. The same ideas and solutions that are common conversation now will become a meeting, taking us out of our supporting role at that time. Yes, teachers had to walk a bit farther to seek us out for help, but I think we put on many more miles than they did supporting them as a school.
For me it was the perfect office. Three other colleagues who all had a common vision and beliefs about the impact of technology on education and where it is leading us. Daily conversations that made me think, blog, and be creative. And fun…..we had some great laughs! I'll be thinking of this team as I sit in my office next year with Kim on Skype, Dennis on Twitter and Chad on the phone. 🙂
So here's to the perfect team and the perfect ed tech setup that allowed us to be creative, take risks, and learn from each other. Here's hoping that we all find that perfect team again in the future.