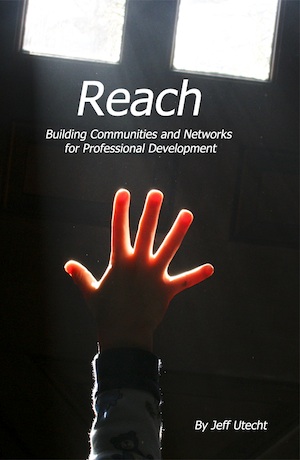 Honestly….I can't believe I'm writing this blog post. My 4th grade teacher would be so proud of me right now (I might have to look her up and send her a copy).
Many readers to this blog who have been following me for more than a year probably realized that I've not blogged as much this year. That it seems like at times I forgot about blogging. I wish I had a better excuse other than you're right.
In August I started writing a book. After being contacted by Corwin Press late last year, I started working on an outline and eventually working on the book itself. To know that there was a publishing company that might actually consider publishing something I wrote was an honor, and the motivation I needed to take that thought of "can I do this?" and make it a reality. Along the way Corwin Press and I parted company. It was a mutual parting of ways as we had different ideas on the direction of this book. Maybe I've had too much of the Seth Godin Kool aid, but this book was never meant to make me money. No, this book has way more meaning than that.
It was September 2006 when this blog turned 1 year old, and I, for the first time publicly, talked about my learning disability. It was a big moment for me in so many way. In writing it down in public, in the amazing response I received from my readers at the time, and the connections it would lead to in meeting, talking with, and communicating with students around the world who were dyslexic. That moment changed me, and I have a feeling releasing this book will do the same.
I'm not a writer, never claimed to be one, I write what I think, how I think, which is tough to put into a book format. It's not a master piece by any stretch of the imagination, but it's mine, done the way I see it, in my voice, and in my words….and that to me is enough.
The book is on schedule to be released on June 15th. I wanted to mention it now because…..well I can't hold it in any longer. Very few people have known that I was working on it (just in case it didn't happen) and even fewer (10 peer reviewers) have seen the finished manuscript, but on the 15th of June that will all change.
I am so glad that I decided to self-publish this book through Lulu.com. I've learned so much by self-publishing and at the same time, and more importantly to me, I remain in control of the content, meaning I'm free do to with it what I please. What do I want to do?
Give it away!
That's right I'm going to give it away to everyone, and anyone who has made this book possible. I've never had a way to give back to the community that has supported me and taught me so much these past 5 years, until now. Now I can give something back to all of you who have made me believe I could write this book. The 700+ blog posts that are housed here are a large part of my growth in this field of educational technology and all of you made this book possible. Even if you just have my blog in a forgotten RSS reader, it was still a reader. It gave me a reason to post and reflect…..a reason to continue to grow and learn.
Of course you'll be able to buy the book (and of course I hope some of you do). It will be available in a number of places online in a number of formats. But for anyone reading this it will be free.
I have decided to give away a DRM free PDF copy of the book to my community and network. To my followers and friends. What does this mean?
If you follow this blog and are around on June 15: Free PDF for you
If you follow the U Tech Tips Blog and are around on June 15: Free PDF for you
If you follow me on Twitter on June 15th: Free PDF for you
If you are a fan of my Facebook Page on June 15th: Free PDF for you
If you are a connection on LinkedIn on June 15th: Free PDF for you
If you are a subscriber to the On Deck Podcast or SOSpodcast: Free audio version for you (coming in September)
If you come to any presentation I give after June 15th (ISTE2010, BLC, EARCOS): Free PDF for you
On June 15th when the book launches, I'll post a PDF copy of the book online for download via a password that will give you access. Once you have the PDF you can do with it what you like. Share it, trash it, give it away, make copies of it for your school. It's yours to share. If you feel like leaving a review on Amazon, or lulu.com or another site, I thank you, but there is no obligation.
Next September after I get back here to Bangkok and get back to my podcast studio upstairs, I will record and release for free an audio version of the book via my podcast site On Deck (iTunes). I am an auditory learner and it's important to me to release the book in as many forms for different learning styles as possible. That is something I've always promised myself I would do.
So that's it…..if you are around on June 15th the book will be yours. If you happen to miss it, the first 3 chapters of the book will always be free on the book's website (still under construction) for download. Again DRM free PDF.
As for the paid copy of the book, I'm hoping to be able to sell it for around $10. That's the goal anyway, we'll have to see what Lulu says about that when I upload the finished copy of the book.
I feel so much better spilling the beans! I'm excited, and I hope you're excited too! I thank you for your support and making this possible by being part of my online community and learning network.
(Picture is the cover of the book. A thank you to woodleywonderworks on Flickr for giving me permission to use his photo for the cover.)