As the school year draws to a close (one week left for us here in Thailand) I find myself reflecting on my first year here in the high school. The accomplishments I'm proud of, the failures to celebrate and the future that is so exciting. 
Accomplishments:
First and foremost are the relationships I've built this first year. This really is the foundation to a Technology Integration position. Whether your first year in a school or just a new division building relationships, understanding the systems, and building trust and confidence with the facutly is in essential part to the first year.  
I feel I had an advantage coming into the high school this year as teaching the CoETaIL Program for two years at ISB allowed me to meet and collaborate with faculty from all three divisions. So transitioning into the high school, I wasn't coming in as an "unknown" person from the elementary. It helped that I had some established relationships but I still had to "prove" that I knew what I was doing in the high school. Overall, I feel like I'm getting into departments more and have laid some great ground work to take the use of technology to a new level next year.
Building on the back of those relationships I was able to support teachers in taking some risks and rethinking some aspects of their teaching. Jim Fitzgerald, who I've blogged about before, took on the reverse instruction challenge, and we saw great success in redefining the role of the teacher and student engagement. The ideas that we proved posible in his class are now slowly spreading through the rest of the English Department and into other departments as well….a great foundation to build on for next year.
In December I was given 5 minutes at a faculty meeting to talk about technology in the high schol. The timing was right having been able to build relationships first semester and proven myself. I challenged teachers with ideas of small changes they could make that might just lead to great learning gains. One of those challenges was to think through how we have students present information.
Dave Krocker, another English teacher, took on the challenge and together we looked at the presentations students were doing in English class. We decided that there was learning in the process of making a presentation that we were not tapping into and we needed a structure that would make the process of building a presentation powerful. We decided to have the students do Pecha-Kucha presentations. They turned out amazing, and Dave was sold on the power of visual presentations. These presentations led Dave to re-exam other areas and tap into the technology skills that our kids already have, and students ended up producing some amazing products, including this video from Sarah on an interpretation of Romeo and Juliet.
Other accomplishments include continuing to use the blogs as reflecting web-based portfolios in Theory of Knowledge classes and Senior Seminor classes. A great foundation on the use of blogs that we can build on next year.
Failures:
Ah….the failures. If you're pushing, thinking, and discovering there are bound to be failures along the way. If you don't have any failures then you're not pushing hard enough. 
One semi failure was the wikitionary project we did in English as an Additional Langugage (EAL) class. It sounded good, looked good, but in the end I think it was a failure. The kids weren't as motivated as I thought, and the wiki community we choose to be a part of was not welcoming to the fact that we had students who were helping to build a wiki for EAL students when they themselves were EAL students. The project become frustrating both for teachers and students. The teacher, asking students to do specific things, soon found out that the wiki community didn't believe the things she was asking kids to add were appropriate for the wiki. The kids adding things to the wiki would find that before the teacher had a chance to check their work, that the wiki community had deleted their hard work. 
In the end we learned how important it is that you choose to join a wiki community/project that truly supports your learning goals. 
Another failure was the Radio Club for the second year in a row that I have been trying to get started. This year we made some head way in that we actually produced a couple shows and had some fun. The problems started to mount up when our equipment which I had thrown together from pieces around the school (including a computer with a half working screen) started to break. Our sound quality wasn't very good, and that frustrated the kids as they wanted to create high quality material. Also the promise of being able to be live on the Internet didn't work out as all the live streaming services were blocked here in Thailand up until about three weeks ago. 
By semster it was getting harder and harder for me to motivate the kids to produce shows, and the core group that stuck with it were all seniors, which meant come Feburary they became focused on graduation and their senior year and the club took a back seat. My goal of producing three quality shows a week turned out to be 13 shows total for the year. I still think we could make a Radio Club fly here at ISB but I have to find a way to get quality audio equipment to create quality audio that the community wants to listen to. All year I've been trying to find funds, and hopefully by the start of next year I'll be able to convince the powers that be somewhere that this is good for kids.
The Future:
The future is bright here at ISB and I'm excited in the direction we're heading. Our 1:1 program expands next year from Grade 6 this year to Grades 6-8 next year, and then 6-12 hopefully the year after that. 
Our complete adoption of Google Apps for both students and staff will streamline a lot of our communication within the school and with our community.
The continued use of blogs as web-based portfolios as teachers now in 2nd Grade want to start blogging with their students next year. Meaning every student grades 3-12 and half of 2nd grade will be creating a web-based portfolio via their blog. 
The idea of reverse instruction continues to be a conversation in the high school and I'm looking forward to continuing to push teachers to look into it as an option for teaching content outside the classroom.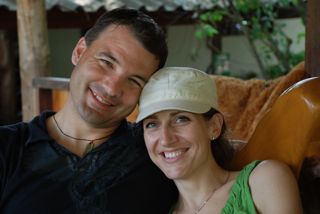 Personally I'll stuggle agian to balance my 90% time here at ISB with my consulting and presentation work with schools, organizations and conferences. My calendar for next year is filling up fast and I'll once again have to walk the fine line between being here for teachers and following my passion for teaching teachers the power of these tools. This year under a 100% contract my life got way out of balance and was unhealthy tipped towards my work. I've been able, with the help of a supportive wife, to step back and get refocused these last couple of months. You are only as good as the support system around you and I'm lucky enough to have a strong one!
All in all it was a great first year in the High School. People ask me if I like if better than the elementary. I'm not sure you can compare the two…they are so different as the kids have different skills and are in different place when it comes to using technology in their daily lives. I love all of it…the kids, the thinking, and the learning. As this year comes to a close I'm already excited for what next year will bring.