As we move to Google Apps for Education at my school I gave a quick 10 minute talk at a staff meeting on 5 Gmail Tips for Teachers. Here they are:
1. Archive is Your Friend

 Getting use to archiving everything is a change. Google wants you, begs you, to archive your e-mails so you can search for them later. No need to keep hundreds…even thousands of e-mails in your inbox. Archive and search later.
2. Learn to Search in Gmail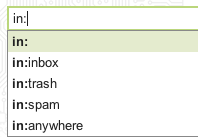 After archive, next you need to learn the search syntax of Gmail. Understanding how to search through your archived mail is a must if you're going to keep thousands of messages. Good search syntax to know:
in: (i.e. in:sent dennis will find you all the e-mails you have sent to someone named dennis)
has: (i.e. has:attachment will find you all the e-mails with an attachment) from: (i.e. from:jeff will find you all the e-mails from jeff)
to: (i.e. to:john will find you all the e-mails to john) label: (i.e. label:Google Docs will search for the word 'docs' in your google label)
subject: (i.e. subject:dinner will find all e-mails where the word 'dinner' is in the subject line)
3. Use Priority Inbox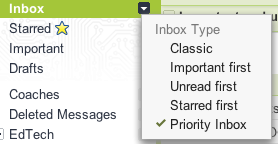 We get so many e-mails during the day that using Gmail's new Priority Inbox can help search out the conversations that are current and e-mails from people you communicate with most often. The other advice I give teachers is to star the e-mails that need a response by the end of the day….and before you leave school archive everything in the "everything else" area. You can always search it later and you're not going to go back and read them tomorrow as there will be new e-mails waiting for you.
4. Use Chat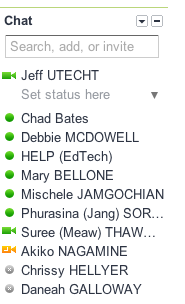 Gchat that can be found in your Gmail sidebar is a great added feature that I've been waiting to hit schools for years. A lot of businesses already use some sort of chat client for quick responses and gchat does just that. Use it to communicate with friends at school, with your department, or with students. Have a running dialog throughout the day and get those conversation based e-mails out of your inbox and into a chat format. Gmail also archives all the chats and if you happen to miss when someone chats you it will send you an e-mail with what they said so you never miss the information. Oh….video chat is great too if you are lazy and don't want to walk to talk to someone else face to face. 🙂
5. Canned Responses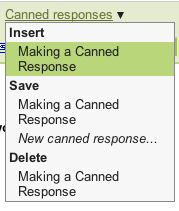 Canned responses are a must for teachers! Turn on this feature in labs and use it to create canned responses to parents or to students. It can also be used to create multiple signatures that you can quickly add to message. So now you can have a e-mail signature for parents, students and co-workers.
Here's a PDF of how to get Canned Responses working
What tips would you add to the list for teachers?