I'm a few hours away from calling a taxi and starting the 17 hour trip to Portland, Oregon (via Seattle of course) for the ITSC11 Conference e. I'll be doing three sessions. Blended Classrooms, Blogs as E-Portfolios, and 10 Digital Tools for Digital Educators.
It's this last session that I always have the hardest time with. What 10 digitals tools should educators know about? There are so many and depending on the attendees, you never know what people really want. That's why this session usually ends up being a great discussion starting with "What do you want to know about?" and off we go.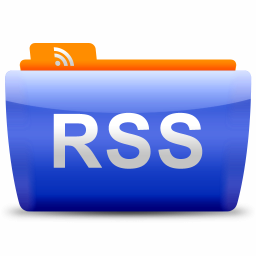 As I've been thinking about the session I keep coming back to how important RSS is to the web. What seems like a such a simple piece of the larger web, this little bit of technology pushes and pulls information around the web behind the sense so gracefully that you probably use it in one form or another everyday without realizing it. Yet, if you can understand it, it becomes a very powerful way to push and pull information around the web where you want it to go. 
Apple, iTunes and Podcasters have made a living off of RSS. Ever wonder why most podcasts are on a blog? Because blogs come with RSS technology built in and iTunes Podcasts run off of RSS feeds. When you "Subscribe" to a podcast in iTunes you're just subscribing to that podcasts RSS feed. iTunes simply delivers the content to your computer. 
RSS is a push and pull technology. It allows you to push and pull content around the web with ease. Many people don't use RSS Readers anymore with them being replaced by Twitter streams, yet the use of RSS goes beyond just pulling content to you.
Here are some ways that I'm using RSS at my school and in my professional life to make things easier and to tie things together. 
COETAIL is a 5 graduate class certificate program that Kim and I run here in Asia (more on the explosion of this program soon). For each cohort we run we set up a blog such as this one I set up for the cohort in Taipei. Part of the problem I was having was when I found content to share with the participants I needed a way to push that information to this blog without going there, logging in and writing a blog post. Using the FeedWordPress Plugin that takes the content in an RSS feed and turns it into a post I now have a way to pull information I share on the web to the site.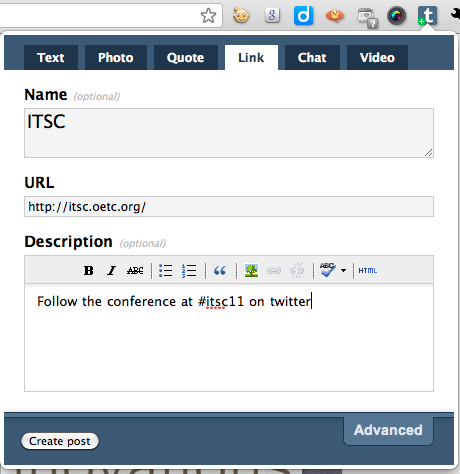 Next was finding an RSS feed that was simple and quick and didn't take much time to use. I decided to use Tumblr as a way to quickly gather web clipping I wanted to save all in one spot. Next I came up with a tagging system. Most blogging systems and even social bookmarking sites have an RSS feed for every tag. Tumblr does and it also has a fantastic Chrome Browser (one of the 10 tools) extension that works great. Now I have a quick way to get information to the different cohorts. Once I find something I want to share I click the Tumblr extension which automatically grabs the URL and the title of the webpage I'm on. I quickly add a description, click on the advance button and add my tags. If I want the information to go to the Taipei site I use the tag coetail@tas. If I want the information to got to the ISB site I use coetail@isb. If I want it to go to all the coetail blogs I simply use the tag coetail. 
Within seconds I can push this content out to the web on Tumblr and then pull it back into different blogs based on tags. 
ISB Blogs:
Using this same idea, students have to write a reflection about their GCW Trips (Global Citizen's Week) that we went on last week. The trip leaders don't have all the student blog addresses and we want the students to own the reflection, we want it to become part of their learning/eporfolio here at ISB. Using the FeedWordPress Plugin on our WordPress MultiSite install I created a tag for each trip. Students write their reflection on their blog and tag the blog post with the specific tag for their trip. I then set up a blog for each trip, grabbed the RSS feed for that specific trip tag and pulled all the blog posts into one blog that teachers can easily read and grade.
Here's the idea:
URL to sitewide tag: http://blogs.isb.ac.th/blog/tag/gcwmekok/
The Feed for the tag: http://blogs.isb.ac.th/blog/tag/gcwmekok/feed
Where all these posts end up: http://blogs.isb.ac.th/gcw-mekok-village/
One great feature of the FeedWordPress Plugin is you can have the link to the post send you back to the original source. So if you want to leave a comment on a student blog post click on the title and it will take you to that student's blog where you can leave the comment. Again keeping the student in control of their content.
This setup could be used in a number of ways. You could create a class blog that basically acts like an RSS reader. Students blog about your class, tag their blogs for your class with a specific term and you and the rest of the world get all the information in one spot, yet the students retains ownership of the content.
How about this….every tag in Diigo has an RSS feed: http://www.diigo.com/rss/user/Jutecht/qrcodes
You could connect your Diigo account to your Twitter account so that every time you share a link on Twitter it pushes that link to Diigo where it's bookmarked (directions here). Once there you can push the RSS feed of the specific tag you use where ever you want it. In a Moodle, on a Blog, a Google Site…..anything that reads an RSS feed could then display this information. Think about this for a second…..one click to Twitter and you push content to Diigo which pushes it out to a blog. One click….three sites get the information and you share with others across networks. 
I'm sure you can think of countless other ways to use this in the classroom….it really is a technology worth learning and is a basis for many things on the web today.