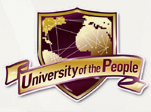 I've had this e-mail sitting in my box for a couple of weeks now. I had a look at this when I first got it but took some time today to really look at the University of the People. All I can keep thinking is:
Is this the beginning of the end?
A university uses the power of the social web for true learning experiences and then gives you credit for learning from and with others.
Shai Reshef from Israel is behind the project and in a New York Times interview he lays out what he hopes will be the future of learning.
"The open-source courseware is there, from universities that have put their courses online, available to the public, free," Mr. Reshef said. "We know that online peer-to-peer teaching works. Putting it all together, we can make a free university for students all over the world, anyone who speaks English and has an Internet connection."
It's one heck of an idea and much like the idea of creating a $100 laptop pushed computer companies to think differently and create Netbooks, I wonder if this University model will have an impact on education. It might not be this university or this time….but it's the idea that we can do something different, that there might be a better way to learn, to teach, that leads to new findings. The XO Laptop has done well for itself, but if you look at the momentum it started, the conversations it started and where computers are today at $400 and lower it was the idea that made computers cheaper for everyone.
Keep your eye on this one and we'll see where it goes.