Not sure where I first saw the report that Technorati was blocked in China, but I did go test it out, and sure enough on Wednesday it was blocked. Today (Saturday April 29, 2006) it is back working again. The Technorati blog posted on Wednesday that people were complaining, maybe those complaints were heard in Beijing, or maybe it was blocked by accident.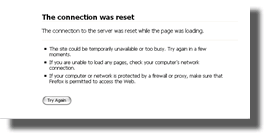 There are times here when you can't get to a bunch of sites, I'm not sure if they reboot the filter servers or what, but there have been times when gmail has been blocked for hours, or yahoo all of a sudden goes down. Those are usually short lived events, but you just never know when it's going to happen. There are some sites that get caught in the cross fire of China's filters, including some educational blogs. Here is a list of sites I'd like to visit that are blocked in China. If you want to know if your site is blocked, shoot me an e-mail and I'll check it out for you.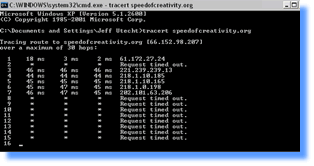 Blocked list:
Wikipedia: This has been blocked since I arrived in August.
Blogger and Blogspot: If you have a blog hosted at blogger.com and/or a url that is http://???.blogspot.com your site is not accessible in China. The whole domain has been blocked. This is frustrating as I can't read any blogs that are hosted there.
Technosavvy.org: Tim Wilson's site was one of the first blogs I started reading. In September it all of a sudden was blocked and has been ever since. It frustrates me as I know I'm missing out on a lot of great information and podcasts.
Moving at the Speed of Creativity: Wesley Fryer's site is also blocked. I've never seen the site. All I know of Wesley's work is through his stuff at techlearning.com and of course every time he is mentioned in other postings.
I'm not sure how Tim and Wesley have their blogs set up, but I have heard that sometimes China will block a whole range of IP addresses. So if your site is located on a shared server, that server's IP address might be blocked making your site inaccessible in China. Some hosting companies keep an eye on which IPs are being blocked and can move your site (if it really bothers you). I was having problems accessing my site back in November so I e-mailed my hosting company and they told me that there were some sites on the same server that were being blocked by China. They were great about it, and moved my site to a new machine with an IP address and sites that were not being blocked in China. I use ICDSoft and would recommend them to anyone.
So the battle of information filtering continues. In U.S. schools it's sites like myspace.com and xanga.com that get the attention. In China it's sites that…well, I really don't know what the criteria is for blocking a site in China. I wonder if they have that posted somewhere?
Update: Tried to find the criteria for blocking sites in China, but it seems to be blocked 🙂
There was a report on BBC the other day (sorry news.bbc.com is blocked) that by the end of 2006 there will be somewhere in the neighborhood of 60 million bloggers in China. A figure that is supported by the China Web2.0 Review site in which it has research that estimates 99 million Chinese blogs by 2008. That is a lot of sites that the Chinese filter will have to monitor. I'm sure Wesley and Tim won't be the only casualties of this information war.
Technorati Tags: myspace.com, xanga.com, China, Filtering, Blogspot, Blogger, wikipedia, Tim Wilson, Wesley Fryer