Last weekend I gave a TEDx Talk at the TEDxKrungthep conference here in Thailand. The YouTube video should be out next week and I'll post it here so you can all rip it apart and tell me how off the mark I am. 🙂
As I was preparing for the talk somewhere over Vietnam about 34,000 feet in the air, I started thinking about Marc Prensky's Digital Natives, Digital Immigrants paper, and how it helps to define different generations. We do this as humans, define generations by the things around them. My generation for some reason got labeled Generation X. Based on social events happening before we were born.
If we think of Digitla Natives and Digital Immigrants as generations I think it makes more sense.
Digital Immigrant Generation: Born before 1977
Digital Natives Generation: Born After 1977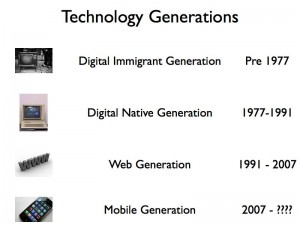 That is the date that Prensky uses in his paper based on when the personal computer first came out. I do think my experiences growing up were different than my parents based on this technological revolution that was the PC. Just like my parents growing up with a TV was a technological revolution to their parents that had a radio.
Technology can define generations…I believe…and I do think it's an interesting way to look at global generations. Why do 30 somethings still play a lot of video games? Because we grew up in a video game era. I had an Atari and the orignall Nintendo. I also grew up with VCRs and at one point had a corded remote (what were they thinking?).
There are technologies that define a generation and I believe there are two other technological advances that have defined two other generations already.
The Web Generation:
The web generation are those born after 1991 who have always grown up with the World Wide Web. This is the generation that has always had and expected access to the Internet. To put this into prespective. Seniors in High School today where born in 1992 meaning that our schools are filled with students who never lived without the Internet. As a 9th grader told me the other day, "Music has always been free and downloadable." This generation grew up with the web, they rely on the web for communication and have always written more e-mails than letters. TV commercials have always had a web site where you could find out more information. Everything has always been able to be found on a search engine, and Flash has always been a plugin.
The Mobile Generation:
The mobile generation are those born after 2007, or so I'm predicting. The release of the iPhone in 2007 marked the beginning of true mobile computing. Yes we had laptops and even WiFi before this, but since that time mobile computing has sky rocketed. BlackBerries, Android, and iPhones continue to grow in sells and popularity. The iPad, Google Chrome OS, and the future of tablets will all define the way this generation expects to interact with information.
This generation will just grow up in a time where you asked your phone for directions to the store, where you could access the Internet virtually anywhere, and when laptop computers have always out sold desktop computers.
I was talking to our kindergarden teachers (blogs here and here) last weekend who said that their kids are having a hard time using a mouse. That the students would much rather and are more comfortable with a touch pad of some kind. Our 1st grade teachers two years ago were worried that their students woudn't be able to use the trackpad on a laptop and found out they were completely wrong, the kids took to it like water.
I put this out there because I think it's important to understand the culture our students have grown up in. Of course this is just one aspect of these generations. They've also the generation that has always had Global Warming hanging over their heads, there has always been tension or war in the Middle East, and the Cold War is in history books. I think it's important to understand the history our students don't have as much as it is to understand the world they are grown up in know.
I think these seperations of the generations around technology can help us better understand them in that aspect of culture and their life. It seems to make sense to those I have discussed this with so far. What do you think? How do you see these generations?