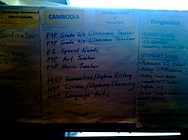 Actually it began quite a few months ago according to the administrators I talked to here at the Bangkok ISS and Search-Associate recruiting fairs. Technology is making this process easier and recruiters are showing up to the actual fairs with a focused set of people they are looking for.
I hope Julie Lindsay and Clay Burell both chime in on their experiences about recruiting as it is an interesting experience that unless you have gone through it is hard to explain.
I wasn't recruiting this year but instead was on baby sitting duty as some friends of ours from Shanghai were here recruiting.
Let's see if I can put the three day crazy experience into a general understanding. Of course everyone's experience is different but for many it goes something like this.
Friday:
8am: Get to your mail box (a folder set up for you) and check to see if any schools have left you a message to meet them for an interview. At 9am you go and schedule these interviews for the next two days or if you are not interested in the school you graciously decline the interview.
9am: Go around to the 100 or so schools and see who has a job opening for you. You know ahead of time based on what schools have posted on their websites, but things are constantly changing. You do a quick look around and then stand in line and schedule interviews with schools that you are interested in.
10am – ??pm: First round of interviews are scheduled and you run from interview to interview talking with Heads of Schools, Principals, and the rest of the interview team. When you are not interviewing you are researching schools and trying to keep up to date on what jobs have been filled and which are coming open.
Saturday:
First and second round of interviews continue all day. The lucky ones will get offered contracts after a second interview/meeting and will have 24 to 48 hours to decide where they want to go.
Sunday:
Final interviews with schools and teachers start to narrow down their choices if they have been offered jobs. At this point you start to get excited about what the future holds, or worried that you haven't been offered a job yet and what do you do if you do not get a job for the next school year (most schools make you resign before the recruiting season starts). In the end you make a decisions on where you will spend the next two years of your life…and maybe longer.
It's a weekend of excitement, disappointment, and utter chaos at times. You get 3 or 4 days to make a decisions that will affect you for the next two years of your life and potentially beyond.
Although this is a brief general outline of what happens at a international recruiting fair, they are slowly changing. Talking to both recruiting teachers and recruiting administrators the fairs are taking on a different feel. My best estimates are that 50% to 60% of jobs were filled before the recruiting fairs even started…some positions as early as November. This change in recruiting practices has to do with the ease of use that one can now contact schools and teachers. E-mail, Skype, Portfolio Websites, have all led to a new form of communication that is turning the recruiting fairs from a "hire everyone" to "hire those you still need".
Most administrators still like to meet the people they are hiring face to face. Skype is helping with this and other schools are finding it cheaper to fly candidates in to interview rather than fly a team of recruiters to Boston and put them up in a 5 star hotel for four days.
Those schools/administrators who are not using these new tools to recruit are finding the pickings "slim" at the fairs. Teachers are contacting schools in advance and schools are contacting teachers who have qualifications they want in advance as well…seemingly making the recruiting season start earlier and earlier each year.
It's been a fun process to watch unfold over the past seven years. To watch technology slowly change the way hiring is done in the international teaching world. Do I think recruiting fairs like this will die? Probably not, but I do think they will take on a different feel and have a different place within the larger hiring process. Those schools/administrators who can adapt to this new technology will have an edge up on those schools/administrators that don't as they will have access to top teachers before the fairs have even begun.
If you are interested in teaching internationally a good place to start is here:
The International Educator www.tieonline.com
A great place to start with job posting from schools around the world, and good articles and other features that will help you better understand the life of living overseas.
International School Services www.iss.edu
ISS is one of two big services that international schools use and run recruiting fairs around the world for international schools. They have a load of information and walk you through signing up for a fair. They create a database of school opening. Schools use their service to search their database for potential teachers.
ISS: San Francisco, CA
February 8 – 12, 2009
ISS/CIS: Philadelphia, PA
February 16 – 19, 2009
Search-Associates www.search-associates.com
The other big service provider to international fairs is Search Associates. Like ISS they hold recruiting fairs throughout the world bringing together schools and teachers to find employees and jobs.They also create a database of teachers and schools that both use to find matches.
HONG KONG FAIR
Dates: 16-18 Jan, 2009
TORONTO, CANADA
Dates: 30-1 Feb, 2009
CAMBRIDGE FAIR – 2009
Dates: 5-8 Feb, 2009
LONDON – FEBRUARY
Dates: 6-9 Feb, 2009
SAN FRANCISCO
Dates: 14-16 Feb, 2009
DUBAI, U.A.E.
Dates: 5-7 Mar, 2009
ISTANBUL
Dates: 13-15 Mar, 2009
BANGKOK
Dates: 27-29 Mar, 2009
LONDON
Dates: 1-3 May, 2009
BETHESDA FAIR 2009
Dates: 17-19 Jun, 2009
UNI Overseas Placement Service www.uni.edu/placement/overseas/
A smaller fair ran by the University of Northern Iowa that is great for those just getting into overseas teaching. It costs less, and I think has a smaller more personal feel then the other larger fairs. This is the first fair my wife and I went to and it still holds a special place for us. We walked in not knowing what we were doing and walked out headed to Saudi Arabia.
Jan. 30 – Feb. 1, 2009