"We have a choice, They don't"
I'm stealing this quote directly from Ben Sheridan. Not sure if he's the one that came up with it however that's who I heard say it so he gets the credit.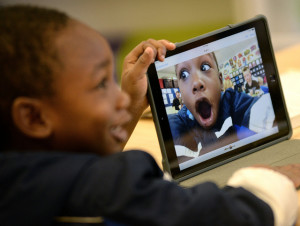 It's a good way to frame and point out where we are in these generation gaps. We (those of use over the age of 34) have a choice of how much of this new technology we want to adopt. Well, some choice. Nobody asked me if I wanted a chipped Credit Card.
But in the grand scheme of how we live our lives, we get to chose how much of this new connected world we want to be a part of. In almost every session I do there is at least one if not three or four teachers who either do not have a cell phone or have a non-smart phone and are completely happy with their lives. That's great. There is nothing wrong with how you want to live your life. You are an adult that knew a different way before technology became part of what it means to live and work today. You get to chose.
Here's the thing….a student today in our schools doesn't get a choice. They don't get to chose. There are very few trades that will exist by the time they hit the workforce that will not require some technology skill. There is not one university today that does not expect a student to know how to use a laptop and at a minimum know how to access work online and turn in assignments online. That's the minimum expectation.
See in their lives…their future, not having a cell phone is not a choice. It's the only phone that will exist. Cars will drive themselves, things will be shipped to your door in under 24 hours and all your bills will be paid online using your phone.
"They're just so connected"
Yes they are! And so are you! Do not put the connected world we find ourselves in on this generation. If you have a cell phone, if you use that cell phone as an alarm clock, then the first thing you touch in the morning and the last thing you touch before going to bed is a connected device. You are just as connected as they are. The only difference is you remember a non-connected world. They don't.
Recently I had a teacher tell me how happy her students were to read a book. A real, paper book. They enjoyed being able to focus on reading without notifications going off on their screen, or that feeling of being distracted because you have a connection. Of course they enjoyed it….the same reason I enjoy camping at the beach with my wife with no internet connection. We enjoy being disconnected. So where are you having that experience in your classroom as well? The experience of being hyper connected and the experience of being disconnected and, here's the important part, talking about the different "feelings" we have in those two places.
There's a reason why the new Kindle Paperwhites are still selling. Who would buy a device that only allowed you to read? Why would you do that? Why do people buy a device that in today's world doesn't do 100 other things? Who would buy a device that allows you to "just read a book."
Not only do I want students to read hyper connected text and content, I also want them to read disconnected content in books as well. But more than that, I want every teacher to have a reflective session with students on WHY we need both. On when do you use one over the other? This is the conversation we need to be having with students.