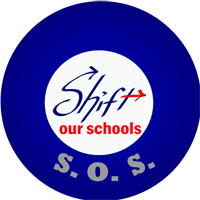 Last night we recorded our third episode of the Shifting Our Schools podcast. A podcast started by David Carpenter and I a couple weeks ago. David and I have been planning the podcast since about September on a Google Doc. A huge thanks to David who has done most of the behind the scenes work on lining up guests, working through the format, etc.
We talked about the format we wanted to use and decided to try and focus each episode on an essential question (EQ). Our first three episodes have focused on:
Why Shift?
How does making connections affect learning?
Passion for learning, how to nurture and grow it?
We wanted our podcast to focus on international educators and wanted to do it at a time that was convenient for us in the GMT+ area of the world. 🙂
We have some great educators out here and I love just getting the opportunity to talk with them around a question. It's difficult as you can't really talk about one aspect of change without looking at a larger picture. David does a great job of keeping us focused on the EQ. Personally, I like to talk and when I have people like Julie Lindsay, Clay Burell, Justin Medved, just to name a few who have joined us already, on Skype for a conversation, that's what we do! We've had some great conversations and we have a great line up of more guesses coming your way.
We have already laid out enough EQs to get us through June. We podcast every other week and only 1 of the 3 have actually taken place on the Thursday's we have assigned. But you know…it's our podcast and we're flexible. This week we moved to Friday because of Chinese New Year.
It's about having fun, about having conversations, and about making connections and that's what we want our podcast to be. We've been lucky enough to have EARCOS (regional organization of international schools in Asia) help us out by sending out an e-mail to all Heads of Schools in the EARCOS region.
You can take part in our podcast live via Ustream or download the podcast either by the RSS feed or by iTunes (If you're in China you need to use this link).
On February 21st Justin Hardman from Hong Kong International School will join us to talk about expanding the learning to include parents. Justin helped to develop Dragon Net at HKIS one of the only systems I've seen that really encompasses everything a school needs in the Web 2.0 world. It's a podcast you won't want to miss.
You can subscribe to our Google Calendar so you know when the next show is…and of course I'll twitter when we're live.
Have a listen….I think you'll enjoy the perspective of the international educator as we try and Shift Our Schools!
[tags]sos, podcast[/tags]
Technorati Tags: davidcarpenter, jeffutecht, clayburell, justinmedved, sos, skype, podcast, internationaleducation