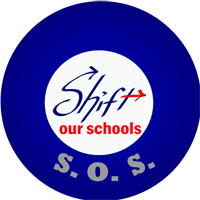 We had a great conversation last Thursday night on the Shifting Our Schools (SOS) podcast. We ran about an hour and one thing I love about running my own podcast is I get to determine the length. As long as the conversation is good…let audacity roll! 🙂
At one point in the show we start talking about teachers and what we (as technology people who are helping to embed technology into the regular classroom) want to see. We talk about teachers who are willing to learn and banter that around for awhile until we land on this:
"We don't want teachers as learners, we want teachers as risk takers!"
If you listen to the podcast you'll know when I say it because there is a long pause as we all let that sink in. But it's true, as a teacher, as an administrator I want risk takers.
What if we change the interview question from:
Do you consider yourself a life long learner? (A question I've been asked in every interview)
to
Are you a professional risk taker?
Give me an example of a professional risk you took last year?
What did you learn from this risk? What would your students say?
Do you believe it's OK to fail?
Either way it was a great conversation around what types of teacher we have access to as integrators. We all agreed it was teachers who are willing to take that professional risk and invite you into the classroom that have the most success.
On another podcasting note and while we're on the topic of risk taking. Dereck Rhoads left a comment the other day on what has become my most popular post to date about Interview questions for International School Job Fairs. While recruiting Dereck used some of the questions that I put forth in the post, changed them, adapted them to fit his needs and used them while recruiting.
But Dereck didn't stop there. He recorded an interview with a teacher candidate and then posted it to his blog to share with the rest of us.
This has me thinking on so many different levels:
How does this change the interview process? Specifically for international educators where distance and costs are a factor?
What insight does a candidate now have not only on the questions that Dereck is most likely to ask, but also in getting a feel for what Dereck and his school are looking for in teacher candidates? We international teachers know it is all about the "fit", about feeling that connection with those in the interview process.
How does this change the recruiting process, when you can go back to an interview and listen to the questions and answers and get a feel for a teacher candidate from almost a "fly on the wall" point of view?
How does this change the recruiting process for the candidate? Being able to go back and listen to your answers to questions?
What if every interview ended with the administrator handing you a mp3 file of the interview. I think that would be fair. You go into an interview, are asked if it is OK to record the interview, and both parties leave with the recording. Benefiting both the teacher candidate and the administrator in allowing them to further reflect on the interview.
Powerful…….
This is just the beginning of what I foresee as a new way of recruiting teachers. International recruiting services better stand up and take notice of what's happening here. The old recruiting fair model, in my opinion, is on its way out. Like other industries, either find a way to adapt and stay in the game, or be prepared to be asking the question "What happened?"
[tags]interview questions, international education[/tags]
Technorati Tags: SOS, audacity, dereckrhoads, interview questions, interview, international education,