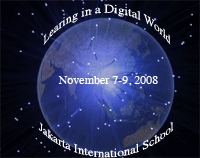 I'm home from the EARCOS Admin conference just for a day before flying out to Jakarta for the Learning in a Digital World conference.
Before I leave for Jakarta, I wanted to jot down some reflective notes about the EARCOS Admin conference.
Having the opportunity to meet with 26 Business Managers was an honor. Out of the 26 schools represented. 12 are already 1:1 and the other 14 will be there in 2 years or less.
Meeting, talking, and learning from Alan November was great fun. His automative vs infomative session has me thinking about how we use technology, and were do we spend our money.
All four of my sessions went well with 30-50 people in each session. Best part, was a principal who looked up her school on Wikipedia, found that it had been vandalized, was able to follow the links and found the student's Facebook page who did it. A great moment for all who attended that session.
Wireless access at a conference no longer is an option. It just has to be.
Played with Cover It Live, a great live blogging tool that allowed others to join in on the conference. (See blog posts below).
Technology and 1:1 is a hot topic in international schools right now, and I see it only getting more attention as schools in the region wrestle with this changing world we find ourselves in.
That's it, back on a plane bound for Jakarta for the weekend!