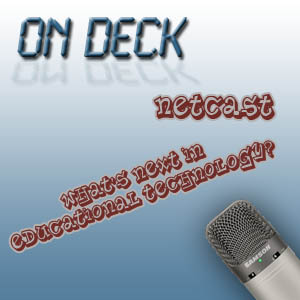 Well I guess it is time to officially launch my podcasting site. I've been working on it for a couple weeks now off and on and tonight played around with it enough to give it a beta launch. I'm still playing with the theme and waiting for iTunes to accept the new site. But all and all I think it's looking pretty good.
Last week I had the opportunity to sit down with the 5th grade team and talk blogging for a whole day. We had some great conversations, learned some new tricks, and bounced ideas off of each other. One thing I talked about with the group is blogs being a conversation (I know I've been saying this a lot lately) and how if we want to get away from blogs just being a place to post assignments, then we as teachers have to start using the space differently, we need to open up our thinking to our students and allow them to think along with us. In a conversation, there is no teacher and there is no learner…there are just people in conversations. Everyone is equal, everyone can comment and every comment is weighed equally. One of the teachers had a great post this week where he asks his students for some help on taking their blogs to the next level. Those have to be 13 of the most thought out comments I've seen in a long time. I can't get my 6th and 7th graders to comment like this (although we're working on it).
On Deck is the name of my podcasting site. Sticking with the baseball theme I have going here. I went through a few names, but settled for On Deck because I think it best represents where I'm at in my thinking. I'm getting closer to being at bat, but I'm still missing some pieces, which is great because it means I still get to learn. Not sure if I'll ever be ready to step in the batters box, but I'm sure having a great time taking practice swings On Deck.
[tags]blogs, ondeck, podcast[/tags]
Technorati Tags: podcast, conversations, blogs