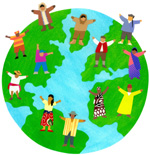 As our first Certificate of Educational Technology and Information Literacy program (COETAIL) draws to a close here at ISB educators are starting to put the finishing touches on their projects for the 5th and final course. They've been working all semester on putting into practice what we've been learning about the first 4 courses. They have been paired with a mentor (Kim, Dennis, and I) to help them create a unit or lesson to use in their classroom. We then schedule a time to go in and observer them using this rubric that the three of us created (worth checking out) based on the enduring understanding of all of the courses.
Some of these projects have just blown me away. Take this Multi Cultural Games Wiki created by two of our PE teachers who have taken the course Andy and Kerry (check out their blogs to see how they're using cell phones in PE Class as well). Students are outlining, filming and sharing cultural games from around the world….and Andy and Kerry invite your students to do the same and add to the wiki. They do a fantastic job of outlining for other educators the idea behind the wiki and how to get started in this youtube video.
These are two PE teachers to follow and pass on to your own PE Department. Andy next year will be moving into the Athletic Directors role and with me moving to the High School next year, we're already talking about ways to use technology even more to enhance our physical education program.
Next up is a very tech savvy 1st Grade teacher who is finding ways to use the technology in his room to help teach a life cycles unit in science. Vu was one of the first teachers I connected with moving here to ISB a year ago and he continues to find ways to use technology with his 1st graders. Using technology in the early primary grades is where I struggle most in my own understanding. Vu's been a great resource for me to go to, bounce ideas off of, and someone who is willing to explore crazy ideas on new uses of technology in the classroom. He's created a blog for their life cycles unit here, and has found ways to take some amazing pictures with the document camera and digital microscope in his class. His students are now all working on VoiceThreads and should have those posted soon. He's currently looking to connect with other classes around the world on this project. You can find the details here, and if you'd like to be a part of this or know a primary teacher who might be interested please contact him. Check out this Cotton Stainer rolling over…1st graders love this stuff!
I'll be sharing more projects in the coming weeks as these "students" finish up their projects.
The COETAIL program has been a huge success at our school with about 50 teachers completing the 5 course 15 graduate credit certificate program. We've already started the next cohort which has 20 teachers signed up. The model that we've created here is starting to spread as well. Taipei American School will be starting their first cohort next fall and Kim and I are working with SUNY and EARCOS to find away to try and offer the program online (more info coming soon!).
In the end this program is changing the pedagogy at our school in small but noticeable ways. 50 teachers with a deeper understanding of both the technology and the pedagogy behind it are now looking for new and innovative ways to use these tools in their classroom.