Last week I had the opportunity to get a free Demo of Freepath, presentation software that allows you to easily use many types of files for a presentation. No more trying to get a movie to embed into PowerPoint or waiting for a web page to load. With Freepath you are not stuck in the linear ways of PowerPoint, but are able to jump about the presentation, making it easy to hold more of an open discussion rather than a slide by slide presentation.
Shane Lapp gave the presentation to me and another educator in. We used Skype for the audio and gotomeeting for the presentation. It still amazes me every time I'm involved in something like this. It was 8:00pm in Ohio where Shane was and 8:00am the next day here in Shanghai.
Freepath takes advantage of the extended screen feature in most laptops. So what the presenter sees is this, (my notes included):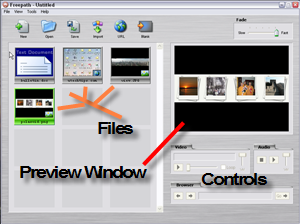 While the audience only sees the actual document being displayed. It's nice the presenter side of the software has a preview screen so you don't have to keep looking over your shoulder to see what is being displayed to the audience.
The software is easy to use with a built in drag and drop feature. You can even load a PowerPoint into the program and then either click through it as a regular PowerPoint presentation, or jump from slide to slide.
The greatest features I think are:
The ability to run flash files from within the program and presentation.
To ability to preload web pages.
The ability to play almost any movie format and be able to preload the movie to play just a clip. So you could load a move and then tell the program to only play 1 minute that you want to show.
Shane also told us that in the next version there will be the ability to run DVDs through the program.
I want to thank a commenter who got me looking into Freepath a couple of weeks ago. Shane is excited about the outlook for both the company and the product. I already have 3 presentations I need to make next year the week before school starts so I'm excited to use this program and take presentations to a whole new level. There is a 30 day free trail available, so head over to Freepath.com and download and play with the program. I'm sure you'll find it as useful as I do. If you would like a live demo of Freepath, you can contact Shane directly at shane at grassroots-sw dot com