A few weeks ago a Bill was introduced here in the State of Washington that would make teaching cursive writing mandatory in elementary schools. Not keyboarding….no in 2016 that should still be optional. But cursive writing…that should be mandatory in 2016. Below is the report from the local news station here in Seattle.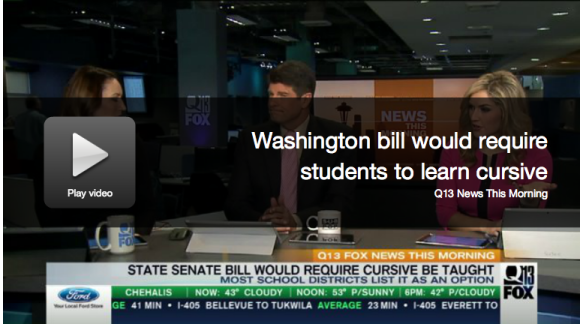 I can't tell you how frustrated I am we are still having this debate to the point that we're willing to make it mandatory at the state level! If you want to make something mandatory to learn in 2016, I mean true foundational skills that students need to have in order to be productive citizens, let's start with:
Know how to type at 60 words per minute by the end of 8th grade
Know how to compose an email to a variety of audiences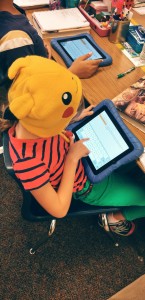 Those are two way more important skills that need to be taught in our schools. In my opinion, these are worth taking valuable class time for. I have been talking about this since before 2009. Why are we moving backwards? Why are we talking cursive in a state that is moving towards the state standardized test being only computer based!
To take this a step further, I happened to be subbing in a 5th grade class on Monday (Feb. 1st). I was lucky enough to be in a class where the teacher basically said….they are your's today..have fun! I love subbing with freedom!
I asked the class this question:
Should you be required to learn how to write in cursive?
We had a discussion about it. Then we watched the above video, did some thinking routines and got to work writing our persuasive pieces on why they thought they should or shouldn't have to learn cursive writing in school.
The school I was at had iPads that were so locked down that they frustrated all of us (teachers included). There was no writing app on them except the built in Note App, which was buried in a folder called "Not to play with". Once we all got on the app and starting writing (that took 10 seconds), I couldn't get them to stop. It's amazing what happens when you ask kids questions that they feel really matter to them and that they can have a voice in. Of course I ran into an issue when it came time to get their writing off the devices. There was no email connected to the iPads so they couldn't email me their writing. This also made me have to adjust my original thought which was; we were going to email all of their thoughts to their representatives (seeing in Social Studies they were learning about the revolutionary war and the Sugar and Stamp Acts I thought them having a voice in their learning was a great tie in).  They couldn't print it as there was no printer hooked up to them. So this cart of iPads was pretty useless….don't worry they all had installed and easily accessible on the home page the testing apps the district uses.
Here's the thing…none of this bothered the kids. They were so happy just to get to use them for something else besides testing that they didn't care what for. Of course there's always a way to get your writing off the device. Thanks to this thing called a smartphone that has a camera we solved the issue rather easily.
So instead of me telling the Washington State Congress how crazy of an idea this is…I thought I would let 5th graders make the argument for me.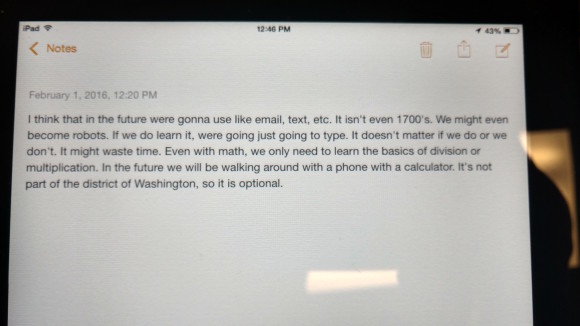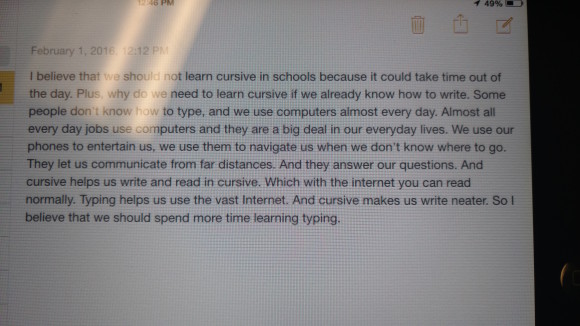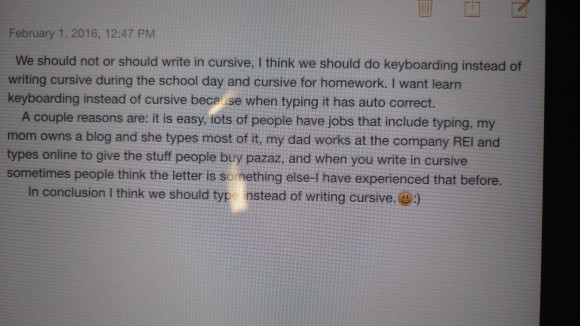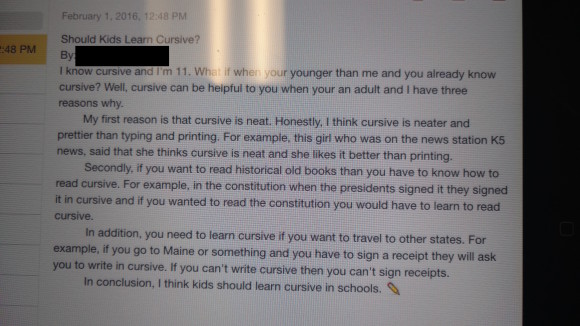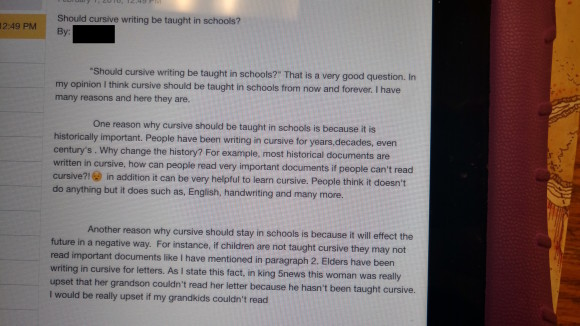 As you can read not every student thought that they shouldn't learn cursive. Some thought it was still worth learning. Actually it was 2 out of 20 in the class that believed they should still learn cursive. Oh…that was our math learning for the day. They were learning fractions so we learned that 2/20 or 1/10th of the class believed we should still learn cursive or 1 out of 10 in ratio terms.
So we spent our day learning around one simple, compelling question….and to quote the students "Cursive? So 1700s!"