We are starting a new completely online cohort in a few weeks. Time and space are running out if you want to be a part of it.
Here are the details: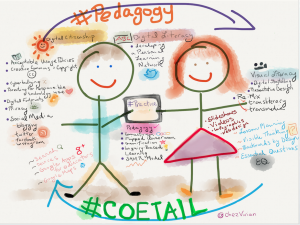 Course Overview
Course 1: Feb. 3 – March 16
Course 2: March 24 – May 11 (1 week spring break)
Course 3: Sept. 8 – Oct. 19 (No summer courses!)
Course 4: Oct. 27 – Dec. 14 (1 week fall break)
Course 5: Jan. 26 – May 10, 2015 (Final Project)
SUNY Credit Option
We have proudly worked with State University of New York – Buffalo State since 2009 and will once again be offering the option to take COETAIL for graduate credit towards a Master's Degree or a Certificate of Educational Technology
(This option is for International Teachers only).
What's the Cost
We continue to receive positive feedback from COETAIL graduates on the price of the program with 95% of graduates telling us the time and money were well spent!
Space is limited!
Space is limited and every online cohort we have had has filled up. Reserve your spot today and don't miss out on a learning journey that will truly transform your classroom, your students and the way you look at learning.