Well it's official my 2013 travel season is over. I'm 33 miles short of flying 250,000 miles.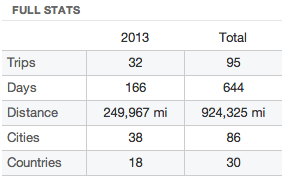 But let's put this 249,967 miles into perspective.
I traveled around the world 10 times at the equator

I traveled to the moon and 11,067 miles back to earth
And now for my top 10 ways you know you traveled almost 250k in one calendar year (feel free to add your own in the comments).
Foursquare congratulates you for checking into your home airport 4 consecutive weeks.
The TSA agent checking your documents says "Weren't you just here?"
The Delta Sky lounge bartender knows you by name and starts pouring your bloody mary as soon as he sees you.
You've flown on every international flight that leaves your home airport to Asia and Europe.
You run out of toothpaste, deodorant and shaving cream in your travel case before you do at home.
You start booking flights based on the airplane type and legroom (777, 787 over 330; 747 over 340; 737-900 over 320)
You understand #6
When booking tickets you instantly look for 24A or whatever your favorite seat number is. (I flew in 24A more than any other seat this past year)
When people ask you "Where do you fly next?" you honestly don't know.
You forget what jet lag feels like, perfecting the art of sleeping anywhere at any time.
I am excited to see where 2014 takes me…..with trips to Ethiopia, Saudi Arabia, and Brazil already lined up in the first few months. It's going to be another great year of sharing and learning with educators all over the world. There is a lot of exciting possiblities coming in 2014. Taking advantage of the pause and preparing for the next big thing.