How time flies as the miles pile up. I have just passed the halfway point of a crazy two months of traveling and presenting. Yes….From the end of September to the end of November I will have flown 70,000 miles and yes….all of it in economy (because I know you were wondering).
It has been a tired, fun, exhausting, passionate time and now that I'm somewhere over the North Pole on my to Seoul, Korea to start course 4 of COETAIL, I finally have time to think about what my learning has been and reflect on this journey.
ICS Addis Ababa – COETAIL
It was great to return to Ethiopia where things continue to move at an incredible rate within the country. I was there for a week to kick off course 3 of COETAIL and while there was asked by the Administration if I would help them bring the Learning2 conference to Africa. I'm exciting to announce that Learning2 Africa will be held September 18-20 in Addis Ababa, Ethiopia on the campus of the International Community School. You'll be hearing more about this for sure here on the blog. We believe this is the first ever educational technology focused conference on the continent and definitely the first geared towards international schools.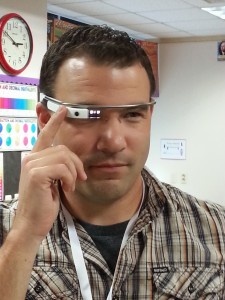 Google Apps Summit South Korea
Jim Sill and team put on another great Google Apps Summit in South Korea. It was very well attended and I got to finally try on a pair of Google Glasses. Mind blowing cool.
Learning 2.013 in Singapore
Another amazing Learning2 conference this year in Singapore. This conference continues to change and evolve and re-event what a conference experience should be. I find it so interesting that this conference and it's different formats have been HUGELY successful over the last 7 years yet no conference has tried to replicate it. I have been to a lot of conferences but none that push the boundaries of participants expectations, learning, and community building like this one.
ITEC Keynote
I had the great pleasure of keynoting the Iowa Technology Educators Conference in Des Moines. As the second day keynote I saw it as my job to motivate and spark passion in the conference goers to make this conference matter to them and their schools when they went back to the classroom. We'll have to wait for the survey results to see if I hit my mark.
It was also great to chat with Scott McLeod again. A great guy doing great things in the state of Iowa.
ISTurin 50% Anniversary Celebration
I was honored to be asked to keynote the 50% anniversary of the International School Turin in Turin, Italy. I had a great time with the staff and the keynote went well. Best part was an hour talk to the high school students challenging them to create their digital profiles now. To be creative, to tell the world they exist and to matter. Still love talking and working with students.
What's my big take away?
Throughout all this travel and experiences I have to say my biggest takeaway is just how amazing of a time we live in. As I said in my keynotes, we are living in a time where science-fiction is meeting reality. Flying cars by 2020, self-driving cars by 2017, watches that we can talk to and talk to us, glasses that give us information instantly when we need it and space travel becoming a common thing. Just the fact that I leave Iowa and 18 hours later can be in Italy is amazing…it really is.
We are so lucky to be living in this time period….and it's just getting started. What about 3D printing, medical advances, and the global connections that will continue to change our way of thinking. The world is changing at an amazing pace and most of it, I would argue, for the better.
However, when I look at education I'm not sure where it's going. Is it keeping up? Is it transforming like the world around it? If it is…..I don't see it. If it isn't then where does that leave us? 99% of all schools in America will have Internet access the greatest resources known to man by 2018 and yet it hasn't changed the way we think about education or educating. The Internet is the greatest app on any device. By itself it allows new learning opportunities that we couldn't and still can't imagine possible. Yet very few classrooms, fewer schools, and even fewer districts are really looking at how this single resource transforms learning in amazing ways.
Something has to give right? I mean the educational system at some point needs to adapt to society's norms correct? If it doesn't where does that leave us? I understand that education is conservative. I understand that education is slow to change. But the world has changed I'm experiencing it first hand from conversations on airplanes with business leaders (yes….they fly economy too…I know right?…who is in business class?) and global workers, to just what I observe in the corners of the world I have been so lucky to visit. We need to do better for our students because the world that they are going into is incredibly awesome and my hope is they'll be ready to take full advantage of it.