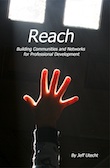 Thank you for helping to support the launch of my first book Reach.
Here are the final numbers of the downloads in case you were wondering.
This Blog: 2,151
U Tech Tips Blog: 77
Facebook: 37
Completely blew away any expectations I had on giving away the book. I appreciate your support, your comments, and your help in getting the word out about Reach.