OK….so the title made you click and read this post…and that's what I'm hoping will happen with our student body. I got a brillant…stupid idea the other day to see if I could engage the student community in using Facebook and FourSquare to promote our up coming Softball Spirit Night (I'm Asst. Coach to boys varsity softball….we play softball instead of baseball at school…so don't judge me!)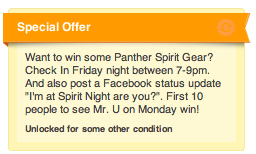 I'm sure there are going to be people that read this and think I'm insane, think I'm putting kids in danger, or a host of other reasons why this might not work…but I do have to say on this one I actually got it approved through the school admin and our very switched on Atheltic Director is in full support. (In full disclosure our Dean of Students, Dennis Harter did my job before me…and our Atheltic Director Andy Vaughen is a COETAIL graduate and a huge user of technology in both Atheltics and Physical Education)
Here's the plan: Spirit Night is this coming Friday as the softball team takes on the International School of Kuala Lumpur.
I first made a special on the school's FourSquare page (see this post about using FourSquare at our school) that you can see in the image above that outlines how to win a prize if you attend Spirit Night.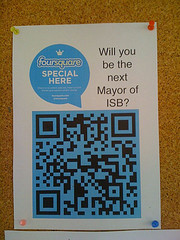 Basically kids have to do two things.
1. They have to check-in on FourSquare between 7-8pm (during the game)
2. They have to post on their Facebook Page a status that reads "I'm at Spirit Night are you?"
Monday morning the first 10 students to come to my office and show me that they accomplished the two things above in the time frame win a prize donated by our PTA via our Athletic Director.
Next step….how do I get the word out to kids? Sure I could have put it in the bulletin that not every student reads, but instead I decided that using the network fully would be an interesting test. So I found 5 very active ISB Facebook groups, joined them and posted a message outlining the details of the compitition to get this in front of kids and get them talking about it.
That's it…we'll see what happens tomorrow night…I'm excited to see if this works…or it might be a total flop as kids will look at this and think "There goes Mr. U again and one of his crazy ideas."
Either way….I'm having fun!