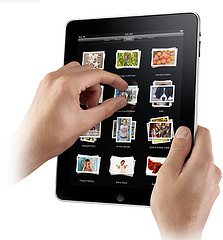 Just as I'm having conversations again around why we should or shouldn't teach typing in our schools technology has once again moved us into another typing realm. The thumb typing.
I've watched more videos than I care to count about the iPad (my thoughts here) and in a recent survey to our students here at ISB revealed that almost 70% of middle school and high school students have either a Blackberry or iPhone. Second hand iPhones are being sold on the cheap at the moment at our school, as high school students trade them in for Blackberries and the unlimited texting between devices available here. But make no mistake the future is in the thumbs.
Records and competition (Wikipedia)


The Guinness Book of World Records has a world record for text message, currently held by Sonja Kristiansen of Norway. Ms. Kristiansen keyed in the official text message, as established by Guinness, in 37.28 seconds.[78]

The message is, "The razor-toothed piranhas of the genera Serrasalmus and Pygocentrus are the most ferocious freshwater fish in the world. In reality, they seldom attack a human."[79]

In 2005, the record was held by a 24-year-old Scottish man, Craig Crosbie, who completed the same message in 48 seconds, beating the previous time by 19 seconds.[80]

The Book of Alternative Records lists Chris Young of Salem, Oregon as the world record holder for the fastest 160 character text message where the contents of the message are not provided ahead of time. His record of 62.3 seconds was set on May 23, 2007.[81]

Elliot Nicholls of Dunedin, New Zealand currently holds the World Record for the fastest blindfolded text messaging. A record of a 160 letter text in 45 seconds while blindfolded was set on the 17th of November 2007, beating the old record of 1 minute 26 seconds set by an Italian during September 2006.[82]

In January 2010, LG Electronics sponsored an international competition, the LG Mobile World Cup to determine that fastest pair of texters. The winners were a team from South Korea, Ha Mok-min and Bae Yeong-ho [83].
And you thought you were fast at typing.
As touch screen devices seem to be the future, or at least the near future as companies continue to roll out touch and multitouch devices, do we need to rethink typing in our schools? Or do we even teach it at all?