As many of you know I recently wrote a peer-reviewed paper with Doreen Keller. If you haven't read it, I highly recommend it to you as it's the foundation, in my mind, how we need to think in a connected world. 
Teaching in a 1:1 classroom is not about the technology or the tools but rather a mind shift that must occur if we're going to truly use the power of the world's information in the hands of students. That's really what this is about. Once we give every student a device we have to rethink a lot of what we do in the classroom and what knowledge acquisition can and should look like. 
Today I'd like to reflect and share my thoughts on the 2nd Connectivism principle of learning that states:
Learning is a process of connecting specialized nodes or information sources.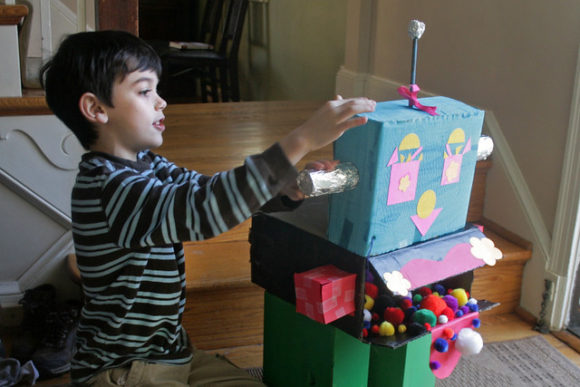 I want you to stop and reflect for a second. If you have something around your house that you need to fix. Let's say the dishwasher is making a noise and instead of calling a plumber right away you decide to try and figure out what's causing the noise and how to fix it. 
Now…right there we have very distinct learning opportunities. 
1. We must first figure out what the problem is. We call this being a problem finder. 
2. Once we have located the problem we must then learn and try and fix it. 
Both of these are learning opportunities and crazy enough just how we live in today's world. 
So I'm going to guess you're going to head to Google and type in GE Dishwasher Model Number 7547 is making a thumping noise when running
You are instantly given a results page that in the crazy world we live is probably has a title of a webpage or a video with that exact phrase!
This is the moment that this principle takes hold. You must now connect nodes of information from different sources to learn something new. You might read a blog post, watch a video or two and all along you are learning. You learn something from this video that you re-read on this blog and then is restated again in another video. You're watching videos taking the pieces that apply to you and ignoring the pieces that don't.  You are learning by connecting all this information from different sources and applying it RIGHT NOW to your situation. 
Then when you finally believe you know what the issue is you're already on your way to solving the problem. You want and read some more, you re-watch some videos, try a few more sources, probably do a new google search that is GE Dishwasher Model Number 7547 upper arm hitting silverware tray. You get more sources of information, some of them the same and some new and you learn more. 
Then you do! Right there at the moment, you do the thing you just learned about. You apply your new learning instantly to a situation and you solve it. 
Then you step back…you look at your work and you're so excited you run and tell your spouse "Honey! I fixed the dishwasher" he or she gives you a "Great Job" and you feel good about your accomplishment. 
Now….getting the "Great Job" is you getting an A on your assignment. However, that is not where the learning occurred. You get an A on your final project because that's all your spouse saw. That's all they wanted and how they are going to assess you. Does the dishwasher not make a noise anymore. 
Now showing results is part of the grade for sure…but if we're really interested in assessing learning the final project is not where the learning happened. The learning happened in the doing. Doing research, connecting information sources, trying something out, trying again, learning, watching more videos, reading more websites, and doing. That's where the learning occurred. 
So I ask you: 
Do you assess just the presentation or the creation of the presentation? 
Do you assess the final writing or the rough draft and edits along the way? 
Do you assess the final answer or the steps to solving the equation?
How do you make sure that you are assessing the learning not the product of that learning? 
Again projects are great….they are the results of the creative process and they must factor into the overall result however if we are REALLY interested in assessing learning…that does not happen in the product. It happens in the process of creating the product. 
It happens in the selection of what information to read/watch
It happens in the trial and error of creation
It happens in the re-watching and re-learning of a new skill
It happens in making the connections between a video that someone else made and the actual problem I have in front of me and trying to determine are they the same problem.
This is a great time of year to reflect on how often are you assessing learning vs the product of learning. How might you have to rethink your lesson/unit/approach so that you can gather, or collect something that shows learning occurring in the moment? What might that look like for you? 
If you have great strategies or ways that you gather evidence of learning happening in the process, not the product would you mind sharing those with all of us in the comments below?