This is going to come as a shock I know…but pre-service education programs are not preparing teachers for a technology rich classroom teaching experience. Or to put that another way the classrooms of today.
According to a Project Tomorrow Report
…principals concluded that they want to hire new teachers with creative ideas about how technology can be leveraged to create authentic and differentiated learning experiences. But student-teachers report that their tech training focuses only on simple management tools. At the same time, the report concludes that those who have the biggest influence on new teachers — veteran educators –  don't always embrace new ways of using technology to engage students. ~MindShift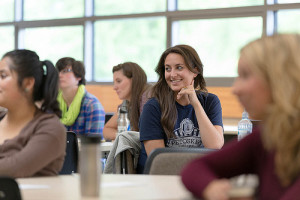 This is an issue and one I have seen first hand. I have had the privilege of meeting with pre-service educators in both undergraduate programs and Master's In Teaching programs…mostly here in the State of Washington. Now some of these programs are doing things different, trying to do things differently or bring a different approach. However, for the most part what I'm finding is technology is still an afterthought in these programs and not a true representation of what is happening in schools.
One of the main issues I see is that technology, in many programs, is a separate course and is not integrated into each of the subject/classes that a pre-service educator takes. History teachers….as part of their program should be required to know how to use all the amazing layers found in Google Earth. Math teachers should know about things like PhotoMath and how you could leverage this in the classroom. English teachers should study and understand how writing has changed over the years and have students practice writing in mediums that apply to 2014. Blogs, Tweets, Status Updates, images and videos. Those are the writing tools of today and of the future.
Or how about just on an professional level. I wonder how many pre-service program cover things like:
How to respond to an upset parent over email
How to respond to an upset student over email
How to respond to colleagues professionally over email
How to write a professional email that conveys your message and will be read
How to handle a situation in which a parents sends you a DM on Facebook about their child (yes they can…yes it happens)
How to handle yourself professionally when everyone has a camera in their pocket
How to update your "class website" in a manner that is appropriate, within school guidelines and gets your message across to your community
That's a list that just rolls off my head in about 5 minutes…I'm sure you can add more to the list in the comments.
Teachers-in-training say coursework focuses on technologies that help a teacher stay organized, rather than ways to engage students. In their methods courses, where teachers learn the mechanics of running a classroom, 71 percent report that they're taught to use simple word processing, spreadsheets and database tools, 64 percent report learning how to create multimedia presentations and 55 percent say they've learned how to use interactive whiteboards. ~MindShift
It's not just that technology is not being integrated into the course subjects and methods courses but that what is required to be produced is not good stuff typically. Sure 64% report learning how to create multimedia presentations but are they good presentations that take into account what we know about brain research? I'm going to guess not.
Are pre-service programs and methods courses looking at what skills need to be replaced for this generation? Are they studying new approaches to learning such as gamification and reverse instruction. Where they might work and where they might not. Are they studying new and emerging learning theories like Connectivism that was written and has been around since 2005 and is the foundation to what MOOCs are based on.
I shouldn't be complaining I guess this is exactly what has made COETAIL so popular. We cover all these topics and so much more over the course of our program. BTW a new cohort is starting in February…feel free to spread the word!
We have work to do throughout education and preparing students for their future. We can't rely on new teachers coming from pre-service programs to be the answer. Yes…they use a ton of tech in their own lives but have never been taught how to apply that to the classroom in a safe and learning focused way. Are they ahead of the game….sure….but without the focus on how and why learning changes when we have access to a connected classroom that tech life skill is wasted.
We can do better…..