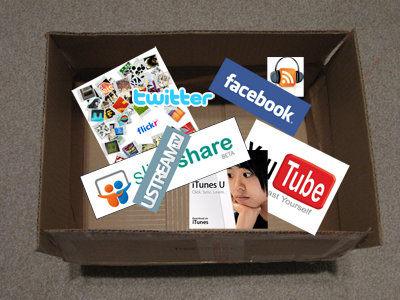 What I love about presenting is how themes emerge within my presentations that I was never thinking about before the conference begins. But somewhere in the process of doing 6 presentations at the EARCOS Teacher's Conference a theme in my sessions emerged.


What is your container?

We talked in many of my sessions about having a container to house all of your web "stuff". What that contain looks like really doesn't matter as long as:
A. It works for you
B. It allows EVERYTHING to be embeded
When you create a "class container" think of it as not just a place to actually put stuff, but a place that allows you to pull in information from other parts of the web. It should allows you to the following:
1. Embed YouTube Videos
2. Embed RSS Feeds
3. Embed Slideshare Slides
4. Anything else that has a standard embed code.
Using the above criteria your container could be:
1. A Blog
2. A Wiki
3. A Ning
4. A Moodle Course
5. Netvibes.com
6. Pageflakes.com
7. Share your container in the comments
All of these above containers work. Find the one that fits your needs and either is unblocked at your school or your school has adopted system wide and start creating your online classroom.
At our school we've adopted two formats school wide. Our Elementary Teachers are using blogs and when you view them as a container you can see what I'm talking about. Here are a couple of good examples:
There are others, but I think these four when viewed as "Blogs as Containers" make the point clear.
In our Middle School and High School we're using Moodle. I can't show you any examples as our Moodle Courses are password protected but within Moodle you can embed all of the above and put RSS feeds in the sidebars. A Moodle course can easily become your container.
Once you view your class website as a container it allows you to think outside the walls of that container and ask yourself:
What can I pull into my space to enhance the online learning landscape for my students?
You don't have to create it all….you just have to know/understand that you can pull things into your space to create a rich learning environment.
The Netvibes page we are using with all 5th graders is starting to become a grade level container. You can see how we've pulled in a couple of things, we can do more with it, and next year I think as this idea sinks in, teachers will want to use it more as a container than just an RSS Feed reader.
Then there's the Ning that Alan November set up in about 5 minutes in a presentation at the EARCOS conference. As he was talking to the audience I created the site in literally 5 minutes, added a video, embedded the Twitter feed for the conference, embedded a custom search engine, and created a link to notes from another session. We didn't even use any of the built in features to get started. Instead we were able to instantly create a container for the conference and pull all of the information on the web into that one spot. A one-stop shop for everyone online about this conference and for the educators of EARCOS. If you are an EARCOS teacher or you are looking to connect with teachers in the Asia region to do a project EARCOS-Ed is the place to make those connections happen.
Take a look at your classroom site…..is it a container? Does it allow you to pull in information from around the web. Can you create a container of learning?
Feel free to show us your example of a classroom container in the comments!