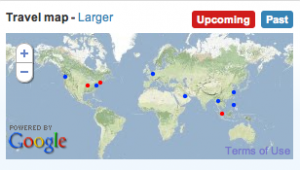 So let me cut through the smoke and mirrors and really tell you why this coming week is important to me.
Simple….on Tripit.com I'm trailing David Warlick in the number of countries I've traveled to this year. As an International Educator….that's just wrong! 😉
I won't pass David this coming week but I'll tie him going into the opening of Baseball Season and we all know from there it's a whole new ball game.
This coming week I'll start my travels in Singapore where I'll be brainwashed attending the Apple Distinguished Educators Asia Institute. I was suppose to attend here in Bangkok last year, but thanks to the #yellowshirts shutting down the airport the institute was moved to Singapore and I couldn't have left if I wanted. This year #redshirts are making noise but the airport is clear for now.
I'm not sure if I'm looking forward to this Institute or not. I've been put off by the last couple of conferences that I have gone to strictly as a participant and not as a presenter. Maybe it's the conference? Maybe it's me? I'm just hoping #ADE2010 can pull me out of this conference funk I'm in. Of course I'm most excited for the conversations with other ADEers coming in from all over Asia to learn together…that is always a blast!
Next Wednesday I leave Singapore and head to Philippians for the EARCOS Teachers Conference. I'll be doing a pre-conference workshop and four conference sessions (non of which I'm prepared for at this point). It's always great to see all my EARCOS friends from the region and have some great conversations around technology and the obstacles we all are trying to overcome in our home countries. Whether it is discussions about site blockage in China, or why not use pirated software when it's everywhere and cheap, the discussions are always great. You'll be able to follow that conference on Twitter at #ETC2010.
Lastly it's a late night flight Sunday back to Bangkok, straight to a hotel downtown and up early Monday for an all day institute I'll be leading for the NESA Teachers Conference. I'm most excited about this all day institute for two reasons.
1. NESA was were I gave my first ever presentation back in 2002 at this exact conference in Bangkok. It's been such a journey presenting over the past couple of years and to be invited back to the conference I started at is….well….it's an honor. At the time I was a 5th grade teacher in Saudi Arabia. That seems like a life time ago!
2. My day long institute is on Creating and Teaching in Blended Classrooms. A new presentation/workshop for me where my hope is well get into some deep discussions about teaching and learning in blended classroom environments. With Moodle (which is widely used in the NESA region) as our backbone my hope is that we will all learn how to create, manage, and use Moodle and Web 2.0 tools effectively in a Blended Classroom environment.
So over the next week you'll be getting updates from these places as I learn with other educators. My favorite part of conferences are the conversations I have with others, and the ideas and time I get to blog my thinking. Whether in an airplane or in a hotel room, I seem to always find time to blog during conferences.