As Day 2 of the conference gets started I'm sitting here in the Blogger's Cafe reflecting on Day 1.
As usual I spent most of my time at the Blogger's Cafe chatting with new and old friends alike.
I did go to one session yesterday. Scott McLeod's session on disruptive innovations.
Now I went to the session to support Scott and to hear what he had to say, but really I could have found the content he was presenting on the web at his K12online presentation.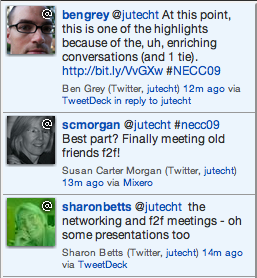 We talk about how content is out there, how if you want to, you can find the content. So why do we come to this conference? If the content that is presented here is accessible anywhere anytime what's the reason we're here?
What's the reason we come together face to face?
I've talked about this before on the blog and I keep coming back to this idea that when we gather at a conference like this, or in a classroom, that the conversation, the relationships, are what we are looking for.
One of the reasons educators give for virtual schools being bad is that students will loose that social connection….I've never heard a teacher say, "But they'll lose the content".
Yet, we build conferences around content not connections…about hour long sessions and not about the socialization of being together……and we're suppose to be the most connected of the educators out there. We are suppose to be the ones who "get it" and yet we see conferences as content not as human connections.
There is a reason we come together face to face. We are social animals we want the social connections.
That's why I spend most of my time hanging out in the Blogger's Cafe. That's were the social connections are made, the conversations that I have here cannot happen on the web…they are organic, they are real, they are friends new and old.
It's getting the opportunity to meet Leo and Sachi LeFever from CommonCraft. Or the Co-founders of VoiceThread. It's these connections that bring us together.
Does the same apply to our classrooms?
Should our classrooms be planned around conversations rather than around content?
How do we make this change?
Technorati Tags: NECC09, NECC, NECC2009, conversations