I'm writing this to share with others as it took me way to long to find the answer on how to do this.
I've got two podcasts; On Deck and Gourmet Geeks that are syndicated via iTunes (here and here). I noticed that when you download them to your iPod that the Album Art wasn't coming through so I did a little research.
I use PodPress on a WordPress install and thought (wrongly) that the Album Art for podcasts was picked up via the RSS feed like everything else in iTunes. But the Album Art actually comes from the ID3 tag on an mp3 file.
Confused? Yeah this is a bit geekie.
What is a ID3 Tag?
ID3 is a very popular audio file data tagging format in active use by
software and hardware developers around the world. ID3 tags are
supported in software such as iTunes, Windows Media Player, Winamp, YME, MusicMatch and hardware players like the iPod, Creative Zen, Toshiba Gigabeat and Sony Walkman.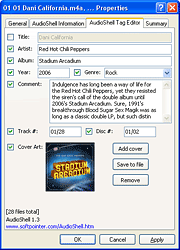 So I learned something new. Didn't even know that this existed. So basically within a mp3 file you can store some date within the ID3 tag. One use for the tag is the Album Art.
So in order to get your Album Art to show up you need to have it embedded into the mp3 file. How do you do this?
You download a ID3 tag editor. I downloaded and installed AudioShell which works really well on my PC. It adds itself to the right-click preferences function. So you can right-click on a mp3 file and as the image shows to the left, add your album art right there into the ID3 tab.
I'm not sure how you add information to the ID3 tag on a Mac. But if someone could point me in the right direction in the comments I'd appreciate it.